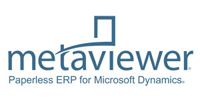 Achieving the Certified for Microsoft Dynamics designation for Microsoft Dynamics D365 for Finance and Operations is a clear reflection of the dedication, hard work and creative minds of our team.
ROCHESTER, Minn. (PRWEB) January 19, 2018
Metafile Information Systems announced today that its paperless automation/document management solution, MetaViewer, designed to help organizations eliminate manual and paper-based business processes, is now Certified for Microsoft Dynamics D365, which signifies that the solution has met Microsoft Corp.'s highest standard for partner-developed software. By successfully meeting all certification requirements, MetaViewer can now carry the distinct Certified for Microsoft Dynamics logo.
Solutions that are Certified for Microsoft Dynamics have demonstrated development quality and compatibility with the Microsoft Dynamics product on which it runs by passing rigorous VeriTest software solution testing for Microsoft Dynamics and are profiled in the Microsoft Partner Solution Profiler tool. In addition, the Microsoft Dynamics partner must have customers who are successfully using the certified solution and are willing to recommend it, be enrolled in a Partner Service Plan with Microsoft and be a Gold Certified Partner in the Microsoft Partner Program.
For customers, Certified for Microsoft Dynamics helps identify Microsoft Dynamics solutions that have been tested for compatibility, meet high quality standards, and are successfully used by existing customers. This certification represents a significant step in elevating the standard for partner-developed software solutions for industry-specific business applications. By highlighting these solutions, Microsoft also creates new opportunities for partners to expand their reseller channel and to better promote their packaged Microsoft Dynamics solution for customers.
By requiring both the software solution and the partner to meet our highest standards, Microsoft is assuring customers that these certified solutions work with their investments in Microsoft Dynamics. Microsoft congratulates Metafile Information Systems on achieving the Certified for Microsoft Dynamics status for MetaViewer by demonstrating its success and commitment in delivering a leading Microsoft Dynamics solution.
MetaViewer increases efficiency by eliminating manual data entry and automating previously paper-based tasks, leading to substantial ROI and greater visibility across the enterprise. From accounts payable to accounts receivable, human resources to legal, MetaViewer with built-in OCR enhances business' Microsoft Dynamics ERP solutions by adding integrated workflow, document imaging and dashboard views of business processes.
Metafile Information Systems provides automated workflow solutions for companies committed to going paperless and improving their business processes and procedures to become more streamlined, consistent and compliant. MetaViewer seamlessly integrates with Microsoft Dynamics ERP solutions across every industry dedicated to more effectively managing business-critical information.
"Metafile has always been committed to providing state-of-the-art, intuitive and comprehensive software solutions to help companies do business more efficiently and more accurately, and achieving the Certified for Microsoft Dynamics designation for Microsoft Dynamics D365 for Finance and Operations is a clear reflection of the dedication, hard work and creative minds of our team," Mike Joachim, software developer at Metafile Information Systems said.
About Microsoft Dynamics
Microsoft Dynamics is a line of financial, customer-relationship and supply-chain management solutions that helps businesses work more effectively. Delivered through a network of channel partners providing specialized services, these integrated, adaptable business management solutions work like and with familiar Microsoft software to streamline processes across an entire business.
About Metafile Information Systems
Founded in 1979 and headquartered in Rochester, Minn., Metafile is an established, independent and efficient provider of paperless document management software applications supporting accounts payable, accounts receivable and human resources departments in middle-market and large businesses nationwide. More than 3,500 organizations have translated Metafile's content management solutions into enterprise-wide value and a competitive advantage. MetaViewer is Metafile's flagship paperless document management solution, offering paper and electronic invoice capture, web-based workflow, two and three-way matching, real-time graphical visibility and full ERP integration. Today, more than 15,000 financial professionals worldwide are efficiently processing more than 15 million paperless transactions per week with the MetaViewer solution. For more information, visit http://www.metaviewer.com.