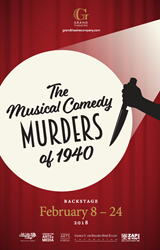 SALT LAKE CITY (PRWEB) January 18, 2018
Salt Lake Community College's Grand Theatre is thrilled to present, The Musical Comedy Murders of 1940, February 8-24.
Written by playwright legend, John Bishop, audiences are in for some good laughs with this hilarious spoof of the great murder mystery movies of the 1940s. With secret passageways, mistaken identities, and one plot twist after another, audiences of all ages will enjoy the humor and mystery while wondering: whodunit?
As the creative team of a recent Broadway flop, in which three chorus girls were murdered by the mysterious "Stage Door Slasher," assemble for a backer's audition on a suburban estate, things turn deadly when the "slasher" returns and strikes again. While it appears no one is innocent, it's not until after a performance of dizzying conversations, forays through secret doorways, a power outage and multiple crimes, that the Stage Door Slasher is finally revealed.
As part of the Backstage Series at the Grand Theatre, The Musical Comedy Murders of 1940 is under the direction of David Hanson, with Hannah Ensign as Intern Director. Ticket are $20 and are available at 801-957-3322 or http://www.GrandTheatreCompany.com. As always, junior high and high school students receive free admission with their school ID.
The Grand Theatre is a 1,100-seat venue located at Salt Lake Community College's historic South City Campus, home of the innovative, state-of-the-industry Center for Arts and Media at 1575 South State Street in Salt Lake City. Beginning in 2015, the Grand has been used each year by Sundance Institute as a screening venue for an international audience during the annual Sundance Film Festival. The theatre dates back to the 1930s when it was part of South High School, which SLCC purchased in 1989, a year after the school closed. The Grand began offering productions that year and has since, with great care and expense, retained its Depression-era charm and attraction while also incorporating the latest technology in lighting and sound. Every season the Grand is host to award-winning theatre and dance productions and concerts that attract arts enthusiasts from all along the Wasatch Front.