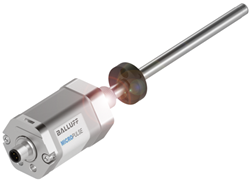 Florence, KY (PRWEB) January 12, 2018
Balluff has expanded its IO-Link sensor portfolio with the addition of the BTL6 rod style linear position sensor with IO-Link 1.1 interface. Ideally suited for continuous hydraulic cylinder position feedback, the BTL6 rod style sensor uses field-prove, time-tested magnetostrictive technology to provide accurate, continuous position and velocity measurement at stroke lengths up to 180".
According to Scott Rosenberger, Product Marketing Manager for Balluff's measurement sensors, the addition of the IO-Link interface provides significant advantages, especially when compared to the more traditional approach of using analog interfaces for hydraulic cylinder position feedback. "Using IO-Link as the interface in linear position monitoring applications eliminates all of the issues associated with implementing and managing analog signals in industrial environments," says Rosenberger. Noise, grounding and measurement calculations are all a thing of the past. "Implementation of IO-Link version 1.1 allows more and faster data transmission, and makes it possible to incorporate advanced functionality: including bi-directional communication, sensor-level diagnostics, and network-based parametrization," Rosenberger added. Over the IO-Link interface, the sensor reports the micrometer engineering units, completely eliminating controller mathematics to convert analog signals to digital data.
Features of the Balluff BTL6 rod style IO-Link linear position sensor include:

Position resolution to 5 µm
Stroke lengths to 4572 mm (180")
Simultaneous measurement of both position and velocity
Non-contact, wear-free operation for long service life
About Balluff Inc.: Balluff Inc., the U.S. subsidiary of Balluff GmbH, Neuhausen, Germany, is a leading manufacturer of a wide range of inductive, photoelectric, vision, capacitive and magnetic sensors as well as linear position transducers, RFID systems, and networking products. Balluff products for OEM and factory floor solutions are used to control, regulate, automate, assemble, position, and monitor manufacturing, assembly, and packaging sequences for industries including: metalworking, automotive, plastics, material handling, wood processing, aerospace, alternative energy, medical, electrical, and electronics.