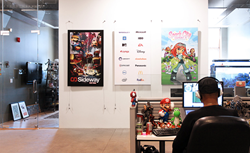 "We feel that employees will better identify and resonate with visual art pieces that have meaning and reflect their company's culture", Nazim Ahmed, Co-Founder
LOS ANGELES (PRWEB) January 16, 2018
CanvasPop, the web's leading provider of wall art and personalized photo gifts, is proud to announce that they're adding Office Art to their growing line of personalization services. The company is constantly innovating and looking to offer businesses ways to empower their employees and create a rich company culture. An empowered office where employees have a say in office art and culture was 30% more productive and had fewer health complains. This new corporate office art program allows companies to personalize their offices to reflect their company's culture and values.
"We feel that employees will better identify and resonate with visual art pieces that have meaning and reflect their company's culture," says Nazim Ahmed, co-founder of CanvasPop. "To expand on that, art is a great way to literally ingrain your company's core values, mission statement, and even visualize goals." said Adrian Salamunovic, co-founder of CanvasPop.
Findings from CanvasPop's survey:

Employees were 30% more productive and had fewer health complaints in empowered offices where they provide input on office art and culture
77% of employees said that art makes them feel happier, 74% said it inspired them and 27% indicated pleasing décor improved their productivity
Only 30% of employees felt their office art was on brand
Highlights:

CanvasPop offers free office art consultation, is American made and comes with a lifetime warranty
CanvasPop helps companies to engage their staff in design decisions
They want to disrupt and become leaders in the Corporate Interior Design market.
Current clients include Bleacher Report, Bonobos Shopify, Timberland, New Balance, Facebook, Nike, IBM, Mercedes, McLaren, Wired, W-Promote, and Zappos.
About CanvasPop:
CanvasPop is a venture-backed B2C e-commerce company focused on delivering personalized wall decor and photo gifts. With over 300,000 happy customers and growing, CanvasPop is looking to expand and disrupt the office art and change the way people around the world shop using the power of mass customization and co-creation. You can find more details on CanvasPop's new service at https://www.canvaspop.com/ideas/office-art.