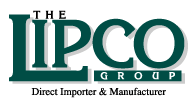 The Lipco Group, a provider of wholesale souvenirs and custom screen printing since 1964, recently celebrated record-breaking web sales as a result of its new ecommerce website that houses more than 11,000 products.
KIRBYVILLE, Mo. (PRWEB) January 17, 2018
The Lipco Group, a Midwest-based supplier of wholesale gifts, souvenirs, and other customizable items, recently celebrated a year marked by record-breaking online sales and new customer offerings—from more robust CMYK Flatbed printing capabilities to growth into new markets—all of which has positioned the company as an industry leader.
A Record-Breaking Web Presence
Launched in late April 2017, The Lipco Group's new site, accessible at http://www.lipco.biz, features more than 11,000 wholesale gift items and other products, from wildlife figurines to western toys. It also offers a variety of customizable items, including screen printed apparel. Despite its mid-year launch, The Lipco Group's updated web presence helped the company generate a record-breaking 800% increase in online sales for 2017. It also brought The Lipco Group more than 150 new customer accounts, a fact that the company's Operations Manager, Kevin Hampton, says is a testament to the transition away from more traditional purchasing methods, such as fax and email orders.
"Adding a new purchasing experience for our long-term customers and reaching new businesses by making our product inventory available online was a big win for us all around in 2017," said Hampton. "We're looking forward to adding new website features and other offerings in 2018 that serve our customers even better."
Other Industry-Forward Offerings
The Lipco Group's updated ecommerce website is a new standard for the wholesale souvenirs industry as a result of more than just its up-to-date design. Site visitors have the option to filter Lipco's products by more than a dozen categories as well as browse pre-made designs for custom screen printing orders. Lipco customers accustomed to purchasing through one of the company's four catalogs—Lipman Gifts, Sojourn Souvenirs, Outlook Designs, and Legends—can search exclusively by catalog as well. Visitors can also conveniently browse sales, clearance, and featured items.
The past year also brought about a renewed focus on advanced customized printing methods for The Lipco Group thanks to an internal expansion of its flat bed printing operation. As a result, The Lipco Group now offers four color process printing options at more reasonable prices than ever.
The company's resurgence in custom screen printing of apparel delivered a sales increase of 6.5% in 2017 with outstanding projections for double digit sales growth in 2018.
"One of our goals for 2017 was to expand our customized printing capabilities so we could give our customers more options for their souvenir items and branding needs," said Hampton. "Now we're equipped to fulfill custom design orders at competitive prices, which we're very excited about."
Looking Forward in 2018
In addition to implementing more robust site features in 2018, The Lipco Group has plans to continue to find and utilize new operational methods of product decoration at reasonable prices to assist its customers with their branding efforts. The Midwest-based company is also planning to attend key industry trade shows in Gatlinburg, Tn., Denver, Seattle, and Phoenix, and has already reserved an expanded booth space at the 2018 Las Vegas Souvenir & Gift Show.
About The Lipco Group
The Lipco Group, formerly named Lipman Gifts, was established in 1964 in Crandon, Wi. In 2008 the Wisconsin operation was transferred to its current location in Southwest Missouri, where it offers centralized order processing and exceptional customer service. Lipco offers a wide variety of wholesale souvenirs and gift items in four divisions: Lipman Gifts, Sojourn Souvenirs, Outlook Designs, and Legends. To learn more about Lipco, visit http://www.lipco.biz or call 800-634-7547.