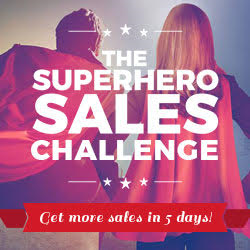 Businesses should approach sales as an inherently win-win scenario, benefitting all parties involved.
TORONTO (PRWEB) January 16, 2018
Powerful Sales Solution is launching a 5 Day Superhero Sales Challenge on January 18 and registration is already open! This B2B Sales Challenge is specifically designed for entrepreneurs and business owners who want to transform their B2B sales process, tackle their challenges, take on a new and effective approach, and double their sales results.
Daniel Moskowitz, Founder and Lead Mentor at Powerful Sale Solutions, is a sales expert who truly understands the pain points involved in the B2B sales process, and the subtle nuances that can make or break a sale. Now, Daniel is sharing his expertise with the world in the 5 Day Superhero Sales Challenge. In addition to the value-filled 5 Day Challenge, Powerful Sales Solutions is also offering a complimentary Superhero Sales Breakthrough Call with Daniel, a unique opportunity for any entrepreneur or business owner.
Very few people enjoy making sales calls, and even fewer like being caught off guard by a sales call! But, as B2B sales expert Daniel Moskowitz points out "when you flip the script and place emphasis on an 'offer to serve' as opposed to pressure sales, the entire customer journey and sales process is transformed! Sales is more than a one-time transaction where one party profits over the other, it is a conversation that evolves over time. Businesses should approach sales as an inherently win-win scenario, benefitting all parties involved."
Daniel has pioneered the Offer To Serve Methodology, and it is an intensely powerful B2B sales tool once implemented, internalized, and executed. Instead of focusing solely on pressure sales, emphasis in placed on the process of nurturing leads, developing authentic relationships based on integrity and trust, truly understanding pain points, business needs and goals, and actually helping.
Gratitude and integrity are key to Daniel's Offer To Serve Methodology which encourages a 'value first' approach, coming from a place of integrity that actually inspires a state of gratitude in others. Daniel states "putting people into a gratitude state is simply about helping them first. It's not about trying to figure out their biggest problem and sticking a dagger into it so they only see you as the answer, it's about actually doing something."
Join Daniel and the Powerful Sales Solutions team for 5 days of intense learning, discussions, and daily call-ins. Get the tools and support needed to transform those dreaded sales call into authentic conversations with the Offer To Serve Methodology, and the results will speak for themselves.
About Powerful Sales Solutions:
Powerful Sales Solutions helps businesses develop and implement a powerful, successful, and sustainable B2B sales process.
Daniel Moskowitz is the Chief Mentor and Founder of Powerful Sales Solutions. As a B2B sales expert for over 15 years, in multiple industries and sectors, Daniel is on an epic mission to change the way B2B sales are conducted. With a focus on Daniel's unique and effective Offer to Serve Methodology, businesses have a positive way to boost sales, develop amazing client relationships, leave a lasting legacy, and grow.