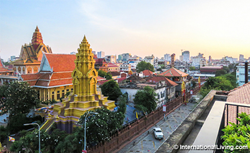 My food is about 50% to 75% less than in the U.S. and I eat much healthier.
Baltimore, MD. (PRWEB) January 16, 2018
At a time when retirement savings among Americans is dangerously low—a recent study put the median retirement account balance at a mere $12,000 for near-retirement households—American retirees are likely to find they can live much better overseas in the world's most affordable locales, according to International Living's new Annual Global Retirement Index 2018 . The index ranks and rates the 24 best retirement havens in the world, highlighting the most affordable among them in the "cost of living" category.
The Index report reveals that in the lowest-cost locales, expats can enjoy a genuinely comfortable, low-stress retirement on as little as their Social Security income alone.
"A budget that would have retirees at home scrimping, eliminating all non-essentials—and many times those essentials, as well—is, by contrast, enough to live well on in the right places overseas," says Jennifer Stevens, International Living's Executive Editor.
"In low-cost, good-value communities all across the world—in places like Bolivia, Nicaragua, Peru, Vietnam, or Cambodia, for instance—a retiree's dollars really stretch. And that equates to a better quality of life. It means it's possible to 'trade up' and instead of sacrificing in retireme nt, be able to afford a nice apartment in a safe locale (maybe even close to the beach). It means being able to eat out, to have a housekeeper clean once a week, to travel. It means being able to afford excellent healthcare, too."
The Cost of Living category in International Living's Annual Global Retirement Index 2018 compares and contrasts all 24 countries based on such hard data as the price for rent and utilities, the cost of milk and beer, flights home to visit family, and what expats pay for local travel, etc.
The data is gathered from ecxpats currently living in the communities that International Living recommends retirees consider. The full cost of living is compared across all the countries, to arrive at a ranking of the most affordable places around the world today.
The top winners—the most affordable places to retire overseas in 2018 are...
5. Bolivia
Visitors come to Bolivia for the culture—36 different indigenous groups inhabit the country. Geographical wonders abound too, including the eerily reflective Uyuni Salt Flats, challenging mountaineering routes, and the lush Amazon Basin.
But a rapidly growing number of folks are choosing to do more than play tourist in this Andean nation—they're staying for good, attracted by the warmth of its people, the moderate climate in the highlands, the many options offered in lifestyle—from the high altiplano of the Andes Mountains to the edge of the low-altitude rainforest, to the old colonial cities rich with history, which dot the landscape between these two extremes.
Plus, it all comes with an affordable cost of living. One-way airline tickets between cities can be had for as little as $27, a nice bottle of locally produced table wine costs less than $3, and taxi rides are available starting at 75 cents.
For $1,550 per month, a couple can enjoy a comfortable retirement in Bolivia, but a money-conscious couple can live on far less.
Steve Nagy, for instance, moved from Florida to the colonial city of Sucre where he rents a one-bedroom apartment. It is set right on the edge of the city's historic district with its grand colonial-era structures, centuries-old churches, and meticulously maintained plazas. He pays less than $300 per month for his place—a price which includes all utilities, cable television, internet, and weekly maid service.
4. Nicaragua
Nicaragua boasts a dramatic Pacific coastline, long Caribbean beaches, volcanoes and fresh water lakes that dot the hilly inland. It also has one of the lowest costs of living in Central America.
"Moving to León has not only saved my life financially but enriched me so much," says expat Dolly Lee. "I was a single parent raising a daughter in the U.S. and working in logistics management. Every time I was laid off, which happened several times, I was thrown into complete panic.
"In May 2016, I suffered another layoff. After being at home for a few weeks, I realized that I was now eligible to collect Social Security at a reduced rate.
"My Social Security check would not be adequate to pay my bills and the private medical insurance I would need to purchase. So, I started looking into the best places to retire on a budget."
Dolly discovered Nicaragua where lower cost of living does not mean sacrificing quality of life. In June 2017, Dolly moved to Nicaragua's second largest city, Leon.
"So far it is the best move I have ever made. I go out to dinner and drinks twice a week, a movie on Sunday, and at least one out of town trip with other expats monthly."
Kelly McGowan, 55, left her job as a probation officer in Tucson, Arizona to move abroad. Trapped in a regular eight-to-five job and unhappy with the U.S. political climate in 2016, Kelly decided to take a leave of absence and move to the beach town of San Juan del Sur.
One thing that met her expectations was the fact that she could live completely within her means. And that was because she had done her homework.
Kelly says, "I'm so happy with the amazing mahi-mahi, seabass, or red snapper fresh fish fillets I can get for only $3 to $4 per pound. A whole fish costs only $2.50. I found a decent apartment with WiFi and utilities for $300 a month. Where can you get this back home?"
3. Peru
Peru is another of the least-expensive countries in the world to retire to comfortably—and a place where residents needn't compromise on comforts.
For the first time, it jumps into the top 10 this year in the Annual Global Retirement Index 2018.
Expat Karl Muse lives in the capital, Lima, and says, "My food is about 50% to 75% less than in the U.S. and I eat much healthier. My cholesterol has dropped from over 200 to under 180...I eat much better for less money."
IL Peru Correspondent, Steve LePoidevin, and his wife, Nancy, live in Huanchaco. "We pay $600 per month for our furnished three-bedroom, two-bathroom unit. Only five minutes from the beach and the local market, it is an ideal location.
"Trujillo, a city of almost 1 million, is nearby. A thorough medical check up, complete with EKG and blood tests, will set you back $85. A consultation with a specialist is $12."
2. Vietnam
Southeast Asia is another region that offers excellent value for money and a cost-of-living much lower than in the United States.
According to the International Living report, Vietnam is a vibrant destination, steeped in history and brimming with opportunity. The most expensive locale is Ho Chi Minh City, followed by Hanoi. But even in these two places, a couple can enjoy a comfortable, middle-class lifestyle for less than $1,100 per month.
IL Vietnam Correspondent, Wendy Justice lives in Da Nang in the center of the country. She says, "To see an English-speaking doctor costs just about $25, including free follow up visits, and a check-up. A cleaning at the dentist's office costs just $8.80. I pay my housekeeper just $8.80 per week, and she comes and cleans for about five hours each time. That's an indulgence that I could not afford if I were still living in the States."
Pat Cox, originally from New Jersey and now living in Da Nang says he recently bought a six-month membership at a gym for himself and his girlfriend and paid just $200 total. "Back home, a gym membership would have cost over $300 per person. Everything is cheaper here."
1. Cambodia
While the cost of living in Cambodia may be one of the lowest in the world, the standard of living is high. When it comes to bang for buck, Cambodia can't be beat. For the third year in a row, Cambodia achieves the top score for cost of living in International Living's Annual Global Retirement Index 2018.
San Diego-native Tom Richter lives in Phnom Penh, Cambodia. "This country has made me feel 15 years younger, compared with living in the States," says Richter. "I made the right decision coming here, and I know it.
"My check from Social Security comes to just over $1,000 per month. But in Phnom Penh that's a sizable amount. What I like most is that there is a very local vibe that comes from people in Phnom Penh. Apart from being extremely friendly and happy to meet foreigners, it is just really cool to be able to go to the street corner in the morning to grab a fresh coconut and a newspaper, while shooting the breeze with some of the tuk-tuk drivers who speak good English."
The full report on the five countries with the lowest cost of living in the world's top retirement havens can be read here: The 5 Top Retirement Havens with the Lowest Cost of Living
Editor's Note: Members of the media have permission to republish the article linked above once credit is given to InternationalLiving.com.
Further information, as well as interviews with expert authors for radio, TV or print, is available on request. Photos are also available.
For information about InternationalLiving.com content republishing, source material or to book an interview with one of our experts, contact PR Managing Editor, Marita Kelly, +001 667 312 3532, mkelly@internationalliving.com
Twitter: @inliving
Facebook: https://www.facebook.com/International.Living/
About International Living
For 37 years, InternationalLiving.com has been the leading authority for anyone looking for global retirement or relocation opportunities. Through its monthly magazine and related e-letters, extensive website, podcasts, online bookstore, and events held around the world, InternationalLiving.com provides information and services to help its readers live better, travel farther, have more fun, save more money, and find better business opportunities when they expand their world beyond their own shores. InternationalLiving.com has more than 200 correspondents traveling the globe, investigating the best opportunities for travel, retirement, real estate, and investment.