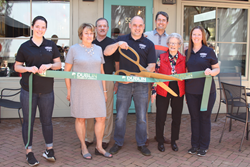 We will continue to solidify the promise to my father to make Johnson's a household name. -Matthew Wilcoxon
COLUMBUS, Ohio (PRWEB) January 16, 2018
It has been less than one year since Johnson's Real Ice Cream announced plans to start expanding the 67 year old brand with the opening of its second Central Ohio location in Historic Dublin. Now, just weeks into 2018, President and 4th generation Family Owner, Matthew Wilcoxon is continuing the expansion by announcing the opening of a third Central Ohio location in New Albany, as well as an exciting new distribution agreement with Columbus area Giant Eagle stores.
The New Albany location is slated to open in the spring of 2018 and will be located at 160 West Main Street near the Pet People and Hudson 29. The shop will carry approximately 40 flavors of Johnson's Real Ice Cream made with Grandpa Johnson's original recipes that call for locally sourced real cream that is free of artificial growth hormones.The shop will also feature signature and crowd-pleasing milkshakes made with milk from Ohio Proud Farmers.
According to Wilcoxon,"Many people think Johnson's Real Ice Cream is just a small family owned ice cream shop, but that can't be further from the truth! What many people don't realize is that our ice cream is served in over 400 restaurants and sweet shops across the country. With the opening of our New Albany location coupled with distribution in 22 area Giant Eagles, we will continue to solidify the promise to my father to make Johnson's a household name."
In 2017, Johnson's soft-launched a Specialty Line of ice cream at Columbus markets: The Hills, Weiland's, Huffman's Market, and Lucky's Market. A portion of this line is now on the shelves of one of the areas largest grocers, Giant Eagle. The distribution agreement with Giant Eagle consists of 22 Columbus locations including Lancaster and Heath. "At Giant Eagle, we've been committed to supporting the communities we serve and delivering our customers the highest quality and most delicious offerings for as long as we've been in business," said Jannah Jablonowski, Giant Eagle Spokesperson. "Making products like Johnson's Ice Cream available to our Columbus Giant Eagle shoppers is just one example of how we bring that commitment to life."
The Specialty Line is a series of Johnson's most popular flavors with a fun new twist using a cast of characters to bring the flavors to life. These include: One Smart Cookies and Cream, Praline, You're Nuts, Triple Trouble Vanilla Bean, Rollin´ in the Cookie Dough, Strawberry Jamboree, PB Choco Tornado, Get Butter Pecan, Black Raspberry Beret, A Little Peach of My Heart, Mighty Mint and Chip, Coffee and the Cool Beans, Double Dutch Chocolate, Salty Caramel Choco Pretzel Trap, and Lemon Cha, Cha.
Johnson's growth strategy will continue to be the driver in 2018 with more distribution points and retail locations on the horizon. According to Wilcoxon, "We are always scouting out new locations and distribution opportunities. When my father gave me the honor of running the family business in 2016, I promised to cherish this family heirloom, grow it, and carry it forward for the 5th generation of our family."