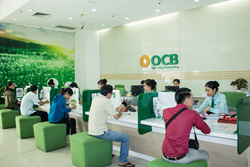 We chose LenddoEFL due to the proven performance of their solutions around the world. We expect that this partnership will allow us to grow quickly by approving more people without increasing our risk.
Singapore (PRWEB) January 22, 2018
Orient Commercial Joint Stock Bank (OCB), a prominent commercial bank in Vietnam, recently announced it will use psychometric credit scoring from LenddoEFL, worldwide leader in credit decisioning using behavioral and digital data, to serve more self-employed and salaried Community Banking (COM-B) clients. Community Banking is an increasingly popular way to serve unbanked and underserved Vietnamese populations, but credit assessment proves challenging as most lack traditional financial and credit information.
"We chose LenddoEFL due to proven performance of their solutions around the world," said OCB COM-B Director, Phu Nguyen. "We expect this partnership will allow us to grow quickly by approving more people without increasing our risk, shortening turnaround times and improving the onboarding experience for our clients. This project will also help COM-B develop intelligent banking services."
"We are excited to partner with OCB helping them provide life-changing credit to millions of underbanked Vietnamese people. This partnership with one of Vietnam's leading banks marks our launch in Vietnam and part of our expansion plans as we provide fast, affordable and convenient financial products for more than 1 billion people worldwide," said Richard Eldridge, CEO of LenddoEFL.
LenddoEFL's solution uses a combination of a proprietary psychometric assessment from an interactive digital questionnaire plus various behavioral data sources to measure credit risk.
About LenddoEFL
LenddoEFL's mission is to provide 1 billion people access to powerful financial products at a lower cost, faster and more conveniently. We use AI and advanced analytics to bring together the best sources of digital and behavioral data to help lenders in emerging markets confidently serve underbanked people and small businesses. To date, LenddoEFL has provided credit scoring, verification and insights products to 50+ financial institutions, serving 6 million people and lending $2 billion USD. Find more information at Include1Billion.com.
About OCB:
OCB was established on 10/06/1996. After more than 22 years of operations and development, OCB has been building a strong position and reputation in the banking industry. In 2016, OCB was ranked 15th in terms of profit level, 10th in ROE and 6th in terms of bad debt amongst all the banks in Vietnam. OCB is rated B2 by Moody's, which is the highest ranking in the group of commercial banks of Vietnam. OCB is also the first and only bank in Vietnam with a risk management system certified by BASEL II standards. OCB's business strategy is to become the leading bank in retail & SME in Vietnam by 2020.
About COM-B, consumer finance of OCB:
"Community Banking" of Vietnam's Orient Commercial Joint Stock Bank (COM-B) specializes in providing personal cash loans for unbanked and underserved populations in Viet Nam who have monthly income from 2 million VND but lack income evidence. Customers can borrow up to 70 million VND with flexible terms from 6 to 36 months. COM-B was founded with the mission of providing the optimal financial solutions to underbanked people with the fastest processing time.