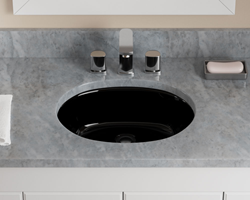 MR Direct is one of the few manufacturers of black porcelain sinks
TOLEDO, Ohio (PRWEB) January 18, 2018
It's not unusual to see a bathroom with a predominantly white décor. In fact, it's only natural. White exudes a sanitary feeling; something appreciated in any bathroom. Traditionally, this esthetic appeal and hygienic appearance is enhanced with the installation of a brilliant, white, porcelain basin. Recently, however, this trend has begun to shift. As an accent to the overall whiteness of the room, it is a black porcelain sink that is gaining popularity.
High contrast designs, based on the play of black and white, have been popular for quite some time in many kitchens. Now, this very clean, but dynamic, look is being adapted to the bathroom. MR Direct is one of the few manufacturers of black porcelain sinks. The sales of two existing oval-shaped models, the UPM and UPS, are increasing year after year. Now a third black porcelain style is being added to the MR Direct line, the U1913. This is an undermount sink with a rectangular shape. The white version has always been a top-seller, and this new black model is expected follow its lead.
All MR Direct porcelain sinks, are created of vitreous china, the superior grade ceramic in the kitchen and bath industry. The new, black U1913 is no exception. The triple glazing and triple firing involved in making vitreous china results in the most durable, smooth, and stain-resistant finish available.
Owning a high-gloss, black, porcelain sink, causes some people to grimace in anticipation of very high maintenance. However, the truth is that black porcelain requires no more attention than white; and simple soap and water does it. Water spots will readily show up on a black surface, but, they are also on the white one. And, there are plenty of toothpaste, makeup, and other splatters that should be wiped down immediately as well; whether on a white or black sink. Once the habit of a quick, daily clean-up after each use is established, the color of the bathroom basin doesn't matter.
If interested in the contemporary appeal of black and white bathroom décor, consider the new, spacious, black U1913 sink as part of the plan. To learn more about any of the numerous MR Direct porcelain sinks, visit http://www.mrdirectint.com.