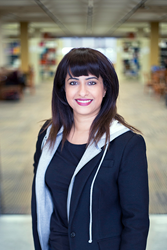 BRIDGEPORT, Conn. (PRWEB) January 17, 2018
Reem Alattas, a University of Bridgeport student-entrepreneur and inventor of a next-generation bike helmet, has advanced to the "Field of 32" semifinalists at Student Startup Madness (SSM), the high-visibility, high-octane competition for inventors held at South by Southwest (SXSW), an annual celebration of tech-innovation that draws tens of thousands to San Antonio each March.
Alattas, an engineering major at UB, was among a field of more than 200 contestants who, via online judging, were winnowed down to a starting "Field of 64" student-entrepreneurs in early January before advancing to the semi-finals.
SSM culminates on March 12, when eight finalists (the "Entrepreneurial Eight") compete before a panel of judges at South by Southwest Interactive Startup Village. Past and current judges include executives and investors from Google, Square, The Blackstone Group, Nike Digital Innovation, Turner Broadcasting, Halogen Ventures, and Walmart, among others.
Alattas' entry is called Rumble©. The helmet comes with GPS tracking, an alert system that warns cyclists when surrounding traffic gets too close, and flashing automatic directional signals operated by a tap of a button. The signals, which Alattas calls "branches," flash left, up, down, or right, depending on a cyclist's direction.
Alattas began developing Rumble in 2014, when she enrolled in the New Product Commercialization class at the University of Bridgeport (UB).
She continued to work on the helmet with free support from UB's Student Entrepreneur Center, where she was helped to refine her business strategy and establish Rumble as a legal entity. And while Rumble has been improved over time, Alattas' initial idea to create a helmet that enables cyclists to more clearly communicate with motorists, avoid danger, and navigate to various destinations remains intact.
The helmet has also generated plenty of buzz.
Last year, Alattas won prize money totaling $12,500 for Rumble at the Connecticut New Venture Competition and the CT Next Entrepreneur Awards competition.
Rumble is scheduled to go to market in late 2018.
"When I made it to the starting 'Field of 64' I was so excited because this is such a prominent national competition," said Alattas. "But now I'm even more excited! I'm preparing to excel in the next phase and hoping to win this whole thing."
Student Startup Madness debuted in 2012 at the South by Southwest Interactive with a launch event and kick-off pitch-fest. Today, it is the only nationwide collegiate tournament focused on digital-media startups.
This year, student competitors came from 49 schools across the country. Many campuses had multiple entrants, but the University of Bridgeport was among four universities who led the application pack with a total of six contestants, organizers said.
About University of Bridgeport
The University of Bridgeport offers career-oriented undergraduate, graduate and professional degrees and award-winning academic programs in a culturally diverse learning environment that prepares graduates for leadership in an increasingly interconnected world. There are 400 full- and part-time faculty members, including Fulbright Scholars, National Science Foundation Fellows, Ford Fellows, and National Endowment for the Humanities Fellows, American Council for Learned Societies Scholars, and Phi Beta Kappa Scholars. The University is independent and non-sectarian.
http://www.bridgeport.edu.