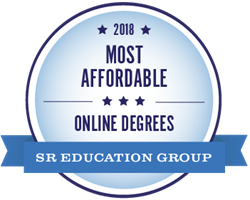 For the 2018 Most Affordable Online Colleges rankings, SR Education Group manually researched over 1,000 colleges.
(PRWEB) January 17, 2018
SR Education Group, a leading education research publisher founded in 2004, just released a major update to its website OnlineU.org: The 2018 Most Affordable Online Colleges. OnlineU.org was created in 2013 to help students choose the best school for their career aspirations and budget, and is dedicated to making objective information about education, careers, and college financing easily accessible. For the 2018 Most Affordable Online Colleges rankings, SR Education Group manually researched over 1,000 colleges to create four separate ranking lists that highlight the 25 most cost-effective online colleges by degree level, as well as an overall most affordable list.
To be eligible for the overall list, which takes into account both undergraduate and graduate tuition rates, colleges have to offer at least five online bachelor's and five online master's degrees. Middle Georgia State University, the #1 most affordable school, offers 19 online degrees starting at an undergraduate tuition rate of $5,070 and a graduate tuition rate of $3,825. Also notable on this list is #3 Fort Hays State University, which offers not only a large selection of 62 online bachelor's and online master's degrees, but also 49 online certificate programs.
Overall, 104 different schools are represented in the five ranking lists, which include the top 25 colleges at the associate, bachelor's, master's, and doctoral levels, as well as the top 25 overall. For the degree level lists, colleges were required to offer at least ten fully online degrees at that level, with the exception of the doctoral list, for which the criteria was three fully online degrees. After qualifying for inclusion, colleges were ranked according to degree level-specific annual tuition rates. The average annual tuition of all five lists comes out to $6,263.
While 17 schools ranked on two of the five lists, only four schools made it on three separate lists: Arkansas State University, Fort Hays State University, Missouri State University, and Southeast Missouri State University. All tuition rates represent out-of-state rates, and were manually researched by SR Education Group. The programmatic accreditation and profit status of schools were collected from official websites of the accreditation agencies or from the National Center for Education Statistics.
Throughout 2018, SR Education Group will continue to expand its coverage of affordable online education, with affordability rankings as well as best value online colleges rankings. This year the organization will be publishing over 100 program-specific ranking lists to help connect prospective students with schools that emphasize both academic success and a commitment to affordability. The upcoming rankings will employ manually-researched, program-specific data, and will provide prospective students with information regarding colleges committed to offering an affordable online education.
About SR Education Group
Headquartered in Kirkland, WA, SR Education Group's mission is to create authoritative online resources for students seeking an online education program that best suits their budget and career aspirations. SR Education Group is passionate about making quality education attainable for everyone and believes that objective information about education, careers, and educational financing should be free and easily accessible. For more information, please visit https://www.sreducationgroup.org/.