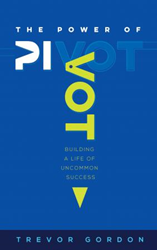 In today's society we see a desire to succeed without work and achieve fame without talent
GREENVILLE, S.C. (PRWEB) January 19, 2018
Within the pages of Trevor Gordon's new book, The Power of Pivot: Building a Life of Uncommon Success readers will explore the notion that uncommon success is realized through how you handle life's pivot points, not just with your actions, but with your words, mindset, and attitude as well. Trevor Gordon guides readers through the life-transforming method of thinking about these pivot points as doors to a fulfilling life and professional success.
"In today's society we see a desire to succeed without work and achieve fame without talent," states the author. "And in as much have no regard for consequences and/or simply miss the 'Aha' moments that can carry you so much further. Every person in their lifetime hits a point of pivot. A pivot point, by nature, is transformative—offering options in the lifetime quest to define who you are and who you want to be. These points define you."
About the Author
Trevor Gordon is a serial entrepreneur who is founder and CEO for the successful SANDLAPPER Companies. Gordon began his career literally at the bottom of his industry, and over a great twenty-five plus year career has been able help many thousands of investors.