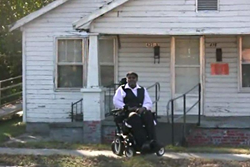 Please donate today so we can move a veteran back into a safe home, his own home, on his own land!
CLINTON, N.C. (PRWEB) January 31, 2018
Willard Swinson, born and raised in Clinton, NC, a college graduate with a degree in history and political science, and an Air Force Veteran, is looking for the community's help after his home was devastated by Hurricane Matthew in 2016. Willard moved into his home on McKoy Street in 2002. In 2006, he suffered a devastating and life-altering fall, which left him a quadriplegic. After several years in rehabilitation hospitals, he returned to his home, now wheelchair bound. He worked to make his home safe and handicapped accessible - a process made difficult by his quadriplegia. The roof to the home began to leak. Swinson had plumbing and roofing repairs done, but the roof still required additional repair, so it was partially covered with a tarp.
Willard survives on just veterans' benefits and social security disability benefits. While he was trying to figure out how he could pay for the roof repairs on his limited income, Mr. Swinson was contacted by the City of Clinton in 2016 and instructed to vacate his home for code violations. Not knowing he could fight this, he moved out of his own home and moved into the first place he could find – subsidized housing for the elderly which is not handicapped accessible and for which he must pay rent which strained his very limited disability income.
Shortly thereafter, Hurricane Matthew struck, leaving Willard's home beyond repair. Since then, Mr. Swinson has been desperately trying to get grants from a variety of government agencies to repair his home, with no success. He longs to move back to his home, the only asset he owns debt free. Regrettably, because he had moved out of his home in compliance with the City's directive, he was later denied a Sampson County grant to repair his home because a pre-condition was that grant applicants reside in the homes they seek to repair. In 2017, the City sought to demolish the home, given its deterioration. Mr. Swinson has tried repeatedly to get his home repaired or to get grants to get it repaired to avoid that loss. He tried dutifully and attended all City Council meetings to attempt to defend his home, eventually the City ordered demolition, at his expense.
Henson Fuerst, a North Carolina law firm learned of Mr. Swinson's dilemma and wanted to help him save his home. Henson Fuerst reached out to multiple organizations trying to find a way to get Willard back into his home. We need the community to stand up and help.
A GoFundMe page and a special trust have been set up to raise $200,000 for Mr. Swinson. This will assist in paying for the demolition of the existing home and building a small handicapped accessible home on land he owns. The goal is to raise funds to build Willard Swinson an ADA compliant home built on the footprint of his old house where he can live in a safe, handicapped accessible home once again. As an American, and a veteran who has served our nation, Mr. Willard is overcome by the love and support he is receiving from the community, his church and the law firm. All payments can be made to the trust through a GoFundMe page or can be mailed directly by check or money order made payable to "The National Community Trust FBO Willard Swinson."
Direct donations to should be mailed to the Trust at:
The Center for Special Needs Trust Administration Regarding Willard Swinson
4912 Creekside Drive
Clearwater, FL 33760
GoFundMe: https://www.gofundme.com/Rebuild-Disabled-Veteran-s-Home
We need your help to donate funds and/or services, to spread the word, so that we can all move a veteran back into a safe home, his own home, on his own land. Please let's all make sure that Mr. Swinson is returned to his home.
For more information and to schedule an interview with Willard Swinson and attorney Anne Fisher, please contact:
Anne Duvoisin Fisher, Attorney
Email: aduvoisin(at)nclandlawyer.com
Boone Office: 828.295.7469
Raleigh Office: 919-781-1107
3110 Edwards Mill Road, Suite 210
Raleigh, NC 27612
Social security and the Veterans Administration provided Willard Swinson with a motorized wheelchair and home nursing aid. He uses the wheel chairto attend church (where he is a Deacon) and do grocery shopping. Otherwise, he relies on City Transportation. Anyone who knows Willard knows he has a heart of gold. Even though this life has had excessive trials and tribulation, he still pours out generosity to anyone he meets.