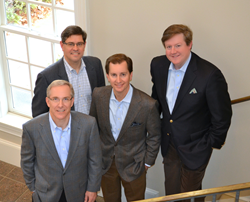 "When the opportunity to add Scott to our lineup presented itself, we didn't hesitate" said founding partner, Cale Conley. "Scott's decades of experience in complex plaintiffs cases will help the firm continue to expand to serve an array of clients, and personality-wise it's just a great fit
Atlanta, Georgia (PRWEB) January 23, 2018
Scott is magna cum laude graduate of Auburn University and a cum laude graduate of the University of Georgia Law School. While in law school, he served on the Editorial Board of the Georgia Law Review. Prior to joining Conley Griggs Partin, he was a senior partner and former practice group leader for Troutman Sanders, one of the largest law firms in the country. Scott spent over 30 years handling high stakes litigation for the firm specializing in product liability, premises liability, truck/car accidents, fire-related injuries, and business disputes. Over the years, Scott developed a hybrid practice defending large companies in complex cases while also representing people who suffered catastrophic injuries. In January of 2018, he joined Conley Griggs Partin to focus exclusively on representing plaintiffs who were injured and businesses that experienced substantial losses.
The addition of Scott Farrow is a strategic move that will increase Conley Griggs Partin's resources and ability to push their growing pipeline of cases. "When the opportunity to add Scott to our lineup presented itself, we didn't hesitate" said founding partner, Cale Conley. "Scott's decades of experience in complex plaintiffs cases will help the firm continue to expand to serve an array of clients, and personality-wise it's just a great fit for all of us."
Conley Griggs Partin, LLP is a Plaintiffs Law Firm established in 2012 by founding partners Cale Conley, Richard Griggs and Ranse Partin. They are dedicated to one single area of the law: representing people and businesses that have been killed, significantly injured or financially harmed by the negligent or wrongful conduct of others. The firm is based in Atlanta, Georgia with a satellite office in Moultrie, Georgia. To learn more, visit http://www.conleygriggs.com or call (404) 467-1155 (Atlanta Office) or (229) 444-6100 (Moultrie Office).