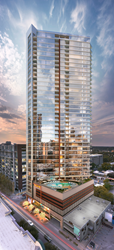 Fifth & West is built in Austin by Austinites whose roots run deep in Texas. - John Needham
AUSTIN, Texas (PRWEB) January 18, 2018
Fifth & West Residences recently commemorated the pouring of its 39th and final floor in December 2017. As Austin's only luxury tower to deliver in 2018, this iconic triangular-shaped residential project is a bold collaboration between the developer, Riverside Resources, GDA Architects, Michael Hsu Office of Architecture, and The Carlyle Group.
Fifth & West will change the concept of downtown luxury living. The building's iconic triangular shape provides unparalleled 315-degree panoramas made possible by the cherished Capitol View Corridor. This exciting addition to downtown Austin is quickly approaching 70% capacity by offering exclusive low density (154 residences) structure that has no attachment to hotel, retail or business spaces. It boasts yoga and fitness studios, 24-hour concierge service, the largest pet amenity space of any downtown luxury condominium and the most 3-bedroom residences of comparable luxury condos with units that average 2,489 sq. ft.
"Our purchasers are thrilled with the topping out milestone," says Niki Piersall, Vice President of McWilliams Ballard, which handles the sales for the project. "Touring owners and prospective buyers through the building allows them to take in expansive Hill Country and downtown views and get immersed in the only brand new luxury downtown condominium that will be move-in ready this year."
Built in Austin and around the Homeowner.
"Leaning a high-rise residence strongly in the direction of the homeowner," was the guiding principle of Michael Hsu Office of Architecture for the tower's interior design. Spaces were designed to encourage a closeness among neighbors when they want it, but also a distance and anonymity if desired. With a nod to the natural landscapes of Austin, materials were chosen for their richness; beautiful woodwork, brass details, marble walls, quartz countertops and white oak flooring. Available for viewing this spring, the unfurnished two-bedroom model with Italkraft cabinetry, chef-appointed Miele appliances, and Savant home automation brings to bear the quality and craftsmanship that can be seen in each spacious residence. Furnished models designed by Michael Hsu Office of Architecture and Claire Zinnecker Design are slated for viewing starting in summer 2018.
To mark the recent construction milestone, Fifth & West debuted a video that crystalizes the vision for the elevated standard of luxury living in downtown Austin. In it, John Needham, Principle, Riverside Resources speaks of pride and affinity for this local labor of love; "Fifth & West is built in Austin by Austinites whose roots run deep in Texas."
To view the video and for more information on Fifth & West Residences, visit: 5thandwest.com.
About Riverside Resources
Rooted in Austin, Texas, Riverside Resources is a commercial real estate development, investment and management firm that has called Austin home for more than 25 years. At Riverside Resources, supreme quality, timeless design and sustainability are the most important aspects of the projects they build in the community.
About McWilliams|Ballard
McWilliams|Ballard, based in Washington, DC, is a real estate sales and marketing firm specializing in the sales and marketing of new condominiums, townhomes and mixed-use communities. During its 20-year history, McWilliams|Ballard has worked in 13 states nationwide, creating partnerships with developers and builders to provide sales and marketing solutions from project inception to the final closed sale for more than 250 communities totaling more than $12 billion in sales.