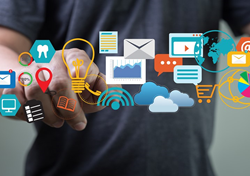 The opportunities to grow by the smart application of technology have never been greater.
HOBOKEN, N.J. (PRWEB) January 18, 2018
A NYC area retail technology consultant and MSP examines the trends in retail technology and how they benefit small business retailers in a new article on the eMazzanti Technologies website.
In the informative article, the company cites examples and offers tips for implementing increased personalization and mobile first strategies. How retailers are blending digital and physical retail channels and optimizing inventory conclude the list of trends discussed.
Small business retailers are urged to work with retailer-focused technology experts to adapt or fall behind.
"Smaller retailers find themselves struggling to keep pace with the digital transformation," stated Jennifer Mazzanti, CEO of eMazzanti Technologies. "But, the opportunities to grow by the smart application of technology have never been greater."
Below are a few excerpts from the article, "2018 Retail Technology Trends Benefit Small Business."
"The 2018 retail technology trends appear to be less about discovering recently-hatched innovations and more on thoughtfully redesigning business models to get the most out of maturing technologies."
Make it Personal
"From initial engagement through product purchase and post-sales interactions, retail technology offers a variety of ways to customize the shopping experience. With many tech options reaching the mainstream, small businesses can now afford to build them into their overall strategy."
Mobile First
"Last year, we noted the rise of mobile commerce. In 2018, look for more customers to use mobile not just to browse or compare but to complete the purchase process. Retailers need to be prepared with mobile-first strategies, not simply a mobile presence."
Blending the Physical and the Digital
"The digital transformation need not mark the end of brick and mortar stores. But it does mean a seismic shift in how retail businesses operate if they are to be successful. While big box stores struggle in the Amazon age, small retailers stand to benefit."
More 2018 Retail Technology Trends>>
Making the Most of 2018 Retail Technology Trends
The 2018 retail technology trends suggest that the playing field is leveling out somewhat. Tech options designed to increase efficiency and personalize the customer experience are accessible more than ever to small businesses.
Savvy business owners will more accurately assess shopping behaviors and respond with targeted customer experiences. The blending of virtual and physical stores will open new vistas of opportunity for engaging shoppers and increasing sales.
Partnering with a retailer-focused MSP can help smaller retailers harness the power of retail technology. The retail technology experts at eMazzanti Technologies guide business leaders through designing a digital strategy to enhance business growth and more efficiently utilize the powerful tools becoming available.
Related resource information:
The Security Benefits of EMV Implementation
Smaller Retailers Keeping Up with Technology
About eMazzanti Technologies
eMazzanti's team of trained, certified IT experts rapidly deliver government, retail and payment technology, digital marketing services, cloud and mobile solutions, multi-site implementations, 24×7 outsourced network management, remote monitoring and support to increase productivity, data security and revenue growth for clients ranging from law firms to high-end global retailers.
eMazzanti has made the Inc. 5000 list eight years running, is a 2015, 2013 and 2012 Microsoft Partner of the Year, 2016 NJ Business of the Year, 5X WatchGuard Partner of the Year and one of the TOP 200 U.S. Microsoft Partners! Contact: 1-866-362-9926, info(at)emazzanti.net or http://www.emazzanti.net Twitter: @emazzanti Facebook: Facebook.com/emazzantitechnologies.