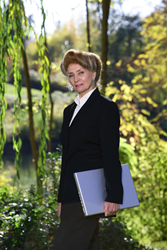 GRANTS PASS, Ore. (PRWEB) January 18, 2018
Somewhere in the world a child dies every 15 seconds from water-related illness. Water Researcher Sharon Kleyne, founder of Bio-Logic Aqua® Research Water Life Science®, wants to make this statistic a thing of the past. Especially in the West, the clean drinking water that emerges every time a tap is turned on is often taken for granted. A majority of earth's population does not enjoy that luxury, and humanity is fast approaching a time when fresh water will be so scarce that wars will be fought to control the water. "Unless humanity is better educated about the water crisis and a spirit of cooperation replaces a spirit of dominance and competition, its fate will be grim," says Kleyne.
There are resources and replacements for oil, but not for water. The international water crisis is so serious that every continent is afflicted with millions of people with little or no access to pure water. China, for instance, is home to 22 percent of the world's population but only to 7 percent of the world's drinking water. Much of that drinking water is contaminated by agricultural and industrial run-off and human and animal waste. In China, in India, in Southeast Asia, in South Africa, hundreds of millions of people literally live beside open sewers. The run-off from these sewers contaminates drinking water sources, which means that millions are drinking contaminated water every day and suffering the ill health, and death, that inevitably follow.
Kleyne, also the host of the nationally syndicated radio program The Sharon Kleyne Hour Power of Water, Global Climate Change and Your Health on VoiceAmerica sponsored by Nature's Tears® EyeMist®, believes that education about safe water and sanitation should be available to every person on earth. New water technology stakeholders—politicians, teachers, farmers, leaders of industry, physicians and builders should come together and embrace innovative technologies and ways to work together. "The essential element," said Kleyne, "is leadership. There must be a coordinated global effort to solve the water crisis." If this fails, as many as 76 million people—most of them children—will die of fresh water scarcity issues and illness in 2020."
A comprehensive environmental land use plan is needed. Wetlands should be preserved and restored. Marshes, rivers, lakes, swamps and ponds control erosion, maintain sediments and purify water. Agricultural use can become more sophisticated. Restoration of aquifers should be stepped up and water lost to run-off should be stopped and preserved. Rainwater can be collected and recharged for general use. In cities, rooftop rainwater harvesting systems ought to become commonplace. Kleyne also believes that more projects like the NEWater Project in Singapore, which provides safe, clean water from purified waste water, should become models for communities all over the world.
Most important, Kleyne insists, innovate research should be globally shared. Without shared research and cooperation, the future of humanity facing little or no water is bleak.