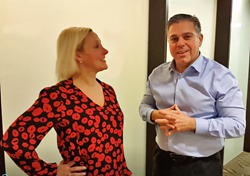 I feel great about myself after being through so much
NEW YORK (PRWEB) January 23, 2018
Singer Songwriter Andrea Benham ("I Got This") Loses 34 lbs on the Dr. Fat Loss Program and Continues Recovering from a nearly fatal Accident
In 2015, Andrea was walking out of a store and a car went through a stop sign and ran her over. She was in a coma for a month, sustained multiple injuries and had 18 surgeries but went on to record "Fences" and "I Got This", both of which were contenders for Best Dance Recording in the 2017 Grammy's.
Andrea ran into her old friend Skeery Jones of the Elvis Duran show and saw that he had lost a ton of weight. Naturally, she asked him how he did it and Skeery recommended the Dr. Fat Loss program.
As part of her recovery, Andrea was working out and eating right but could not lose weight so she went to see Dr. Fat Loss and got on the program. Her metabolic age when she started was 52 and Andrea got it down to 35 plus she lost over 34 lbs.
"I feel great about myself emotionally, mentally & physically after being through so much," said Andrea.
I GOT THIS - Andrea Benham
https://youtu.be/r36rkl22ImI
ABOUT DR. FAT LOSS: Dr Ferdico is so confident of the program that the results are guaranteed! Average female patient loses 25 - 35 pounds, Average male loses 35 - 45 lbs. Dr. Ferdico personally guarantees that his patients will love the way they look and feel. "You will be a healthier, happier and will love the new you!"
BROOKLYN LOCATION
Dr. Enrico Ferdico (AKA Dr. Fat Loss)
1736 86th Street
Ground Floor
Brooklyn, N.Y. 11214
718-837-3700 Office
http://www.drfatloss.com
https://www.facebook.com/thedrfatloss
https://twitter.com/TheDrFatLoss
Andrea-Benham-and-Dr-Fat-Loss
https://youtu.be/xeeb2rjjH7M
MANHATTAN LOCATION
Dr. Enrico Ferdico (AKA Dr. Fat Loss)
Helmsley Building
230 Park Avenue, 10th floor
New York, NY 10169
SYOSSET LI LOCATION
Dr. Enrico Ferdico (AKA Dr. Fat Loss)
6800 Jericho Turnpike, Suite 120W
Syosset, NY 11791