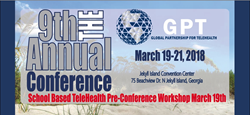 Our hope is that by putting the two together, school nurses will be able to attend both.
(PRWEB) January 18, 2018
Georgia/Global Partnership for Telehealth (GPT) has invited school nurses and others interested in student health from Georgia and surrounding states to attend its School-Based Telehealth Pre-Conference Workshop in the Jekyll Island Convention Center on March 19, 2018. The Pre-Conference will replace the one-day School-Based Telehealth Summit that GPT hosts annually in Tifton.
Loren Nix, Director of School-Based Telehealth at GPT, expressed her hopes that absorbing the School-Based Telehealth Summit into a larger conference will provide school nurses who use telehealth with more resources than the one-day summit typically does. "We've found that many nurses are forced to choose between GPT's big annual conference and the Summit," Nix said. "Our hope is that by putting the two together, school nurses will be able to attend both."
The Pre-Conference will feature two sessions, according to Nix. The first, from 9 a.m. to 12 p.m., will be open to anyone interested in learning more about or sharing their experiences related to bringing telemedicine services into school clinics. The second session, from 1 p.m. to 4 p.m., will be more intensive and is for GPT partners only. The discussion in this session will cover everything from detailed paperwork processes to school telehealth best practices.
"GPT's annual conference, March 20-21, will have a little something for school-based telehealth users, as well," Nix explained. On March 21 Nix will moderate a panel discussion highlighting the collaboration between school-based clinics and large hospital systems in Florida, Georgia, and Tennessee. "The panel will focus on the programs' planning stages, viewpoints on strategic partnerships, and navigating a business relationship where one body is much larger than the other," Nix said.
The change in conferencing format is just one of many changes that GPT is implementing in 2018 as they prepare to unveil a new, all-encompassing telehealth portal later this year.
Global/Georgia Partnership for Telehealth (GPT) is a nonprofit corporation whose mission is to deliver worldwide access to healthcare by leveraging technology. With a 12-year track record of success developing and implementing sustainable, cost-effective telehealth programs, GPT is the leading agency globally focused on increasing access to healthcare through innovative use of technology. Currently, GPT manages a network of more than 650 endpoints, including partner providers, health systems, schools, universities, long-term care facilities, correctional facilities, and international mission projects. For more information, visit our website at http://www.gatelehealth.org.
# # #
If you would like more information about this topic, please contact Evan Pell at (912) 285-0902 or email at Evan.Pell(at)gpth(dot)org.