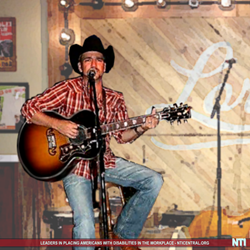 "We are proud to have Craig Campbell and Whiskey Tango partner with NTI to help Americans with Disabilities and Disabled Veterans Nationwide." Mike Sanders Director of Marketing, NTI
KANSAS CITY, Mo. (PRWEB) January 22, 2018
NTI (http://www.NTICentral.org) has partnered with renowned country recording artist Craig Campbell and Kansas City's prominent Country Music venue, Whiskey Tango, to spread the message of NTI's job services to Americans with Disabilities and Disabled Veterans nationwide. In this effort, NTI will randomly choose winners of free tickets for Campbell's next performance at Whiskey Tango on February 9th from contest entrants who follow and share NTI's posts on social media using the Hashtags #CraigCampbellRocks and #DisabilityJobs.
Craig Campbell, of Redbow Records, has recorded Public Service Announcements (PSAs) for NTI to spread a message of hope to Americans with Disabilities and Disabled Veterans as they transition back to the workforce following a disability or extended illness. NTI helps Americans with disabilities train for and find work-at-home jobs with Fortune 500 companies. The PSAs, featuring Campbell's hit song Outskirts of Heaven in the background, are publicly available for distribution at http://craigcampbell.nticentral.org. Several of Campbell's recordings have appeared in Billboard's Top 100 Country songs including "Outskirts of Heaven," "Fish," and "Family Man." Campbell has also made recent appearances at the National Tree Lighting Ceremony at the White House and the SESAC Awards, and he is a frequent performer at the Grand Ole Opry in Nashville.
Whiskey Tango owner Shawn Brown partnered with NTI and Campbell to promote NTI's efforts locally and to bring awareness to Missourians that job services, work-at-home positions, and job-reimbursements of up to $10,000 are available to Individuals with Disabilities who qualify. Nearly 2000 people have been helped by NTI in the state of Missouri, and over 50 in the Kansas City area. NTI looks forward to serving more Americans and Veterans with Disabilities throughout Missouri.
Brown describes himself as a "devoted supporter" of Americans with Disabilities and Disabled Veterans. He has graciously donated tickets to the upcoming Craig Campbell show at Whiskey Tango to be given away by NTI on social media to increase local participation in and awareness of NTI's services. Brown is not only committed to helping those in the community, but he is also committed "to provide customers with the absolute best entertainment experience available among Kansas City nightclubs." NTI looks forward to Brown and Campbell's efforts in tandem making it possible to help more disabled Americans gain freedom and independence through employment.
About NTI: National Telecommuting Institute (NTI) is a 501 (c) (3) not for profit organization with headquarters in Boston, MA. It has been supporting Americans with disabilities since 1995. NTI provides training and job placements in work at home positions across the United States. NTI pioneered staffing virtual call centers with Americans with Disabilities, including Disabled Veterans, who work from home.
About Craig Campbell: Campbell's talent and dedication to his craft launched his career in Nashville in 2011. Originally from the small town of Lyons, GA, Campbell has used his small town grit to overcome the inevitable bumps in his career path. Although he has experienced setbacks, he has never once wavered from his mission to bring his fans country music that tells Campbell's own story in a timeless way. He released his first debut single, "Family Man" in 2010. Since then, Campbell has released numerous singles like "Keep Them Kisses Comin'," "When I Get It," "Outta My Head," "Fish," and most recently with Red Bow Records, "Tomorrow Tonight" and the ever popular "Outskirts of Heaven." He is currently working on his third album about which he said, "You can expect some great music with a little more energy, and a lot more fire."
Contact:
Michael Sanders
Associate Director of Marketing
617-787-4426 x331
NTI, Inc.,
225 Friend Street Suite #401
Boston, MA 02114
Facebook: Facebook.com/nticentral
Instagram: Instagram.com/nticentral
Twitter: Twitter.com/nticentral