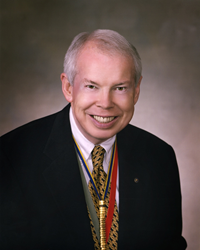 ATLANTA (PRWEB) January 20, 2018
Tom McDonald was awarded Professional Photographers of America's Lifetime Achievement Award during the Award & Degree ceremony at Imaging USA 2018 in Nashville. McDonald is only the sixteenth photographer to ever receive the honor in PPA's 150-year history.
He is well-known the world over, but McDonald is such an integral part of PPA's history that he has an award named after him: The Tom McDonald Award for photography education. Renowned for his book, The Business of Portrait Photography, McDonald has been the recipient of everything from the Gerard Baker Award for teaching to the National Award for Service from Arkansas Professional Photographers and Southwestern Professional Photographer. He has even been given a UN Award for service to humanity.
A life-long resident of Arkansas, where he originally worked in sports journalism, McDonald took the plunge into full-time photography in his 30s. His talent and insight led to him becoming internationally renowned as a portrait photographer, teacher and giving back much of his time to his community and profession.
The PPA Lifetime Achievement Award was presented to Mr. McDonald by PPA President Rob Behm, M.Photog.Cr., CPP. Good friend and PPA Board Director Gregory Daniel, M.Photog.Cr., CPP, F-ASP, accepted the award on McDonald's behalf.
About Imaging USA:
Imaging USA is the longest-running international photographic convention, expo and image exhibition in the world. The event dates back to 1880 when it began as the annual convention and trade show for Professional Photographers of America (PPA). More than 10,000 photographers descended upon Nashville for three days of photography education and inspiration as well as some exclusive photography-related shopping. For more information, visit ImagingUSA.org.
About PPA:
Professional Photographers of America (PPA) is the largest international non-profit association created by professional photographers, for professional photographers. Almost as long-lived as photography itself, PPA's roots date back to 1868. It assists over 30,000 photographers through protection, education and resources for their continued success. See how PPA helps photographers be more at PPA.com.