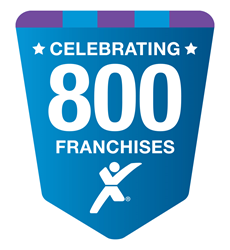 This company continues to exceed expectations, and reaching our 800th office just sweetens the recent successes. - Bob Funk, CEO of Express
Oklahoma City, OK (PRWEB) January 19, 2018
Only a few weeks into 2018, staffing giant Express Employment Professionals continues to shatter goals and hit milestones with the awarding of its 800th office.
The award caps off another record-setting year for Express with $3.4 billion in sales and the placement of more than 540,000 associates at roughly 84,000 client companies. Forty new territories were awarded by the international staffing company in 2017 with 21 resales.
"Exactly thirty-five years ago, the first Express office opened its doors, and we began to lay the groundwork for what has now become one of the top privately owned staffing companies," said Bob Funk, CEO of Express, and a former chairman of the Federal Reserve Bank of Kansas City. "This company continues to exceed expectations, and reaching our 800th office just sweetens the recent successes."
The 800th office was awarded to Ryan Strain in Central Calgary, Alberta, Canada. Strain is new to the staffing industry after spending 15 years working for the Department of Corrections and the last six as a ministerial special advisor in a government capacity. The new franchisee's reason for venturing into the franchise businesses is echoed by several other Express franchise owners. He was simply looking for an entrepreneurial opportunity with a purpose.
"Express checked all the right boxes of what he was looking for in a business," said Brook Wise, Express Franchise Executive. "Ryan was ready to leave behind working for the government because he said it had become monotonous and stagnant. He was ultimately sold by the success of our franchisees and the fact that we are a business with a mission of putting people to work. He is excited about being able to help local, small businesses."
Strain's most recent job required a relocation to Yellowknife in the Northwest Territories, more than three hours away from his family. Owning an Express franchise provides him with the flexibility and control over his business to move to Calgary while taking comfort in the tremendous support offered by an international franchisor.
Looking forward, Express is striving toward a goal of 900 offices in the United States, Canada and South Africa, while expanding into other ventures through Express Franchise Development. The offshoot will allow the franchisor to invest equity into emerging franchise brands while leveraging the staffing company's world-class franchise development team and competencies as a 35-year proven franchisor. As its first venture, the entity has entered into an agreement with Chicago-based boutique fitness studio franchise The Barre Code.
"This is an incredibly exciting time for Express Employment Professionals," said David Lewis, Vice President of Franchising. "The staffing industry continues to gain momentum, and Express is constantly expanding to meet the growing need. And more importantly, every time a new office opens, it helps provide jobs for an average of more than 670 people."
Express Employment Professionals offers a full range of employment solutions, including evaluation hire, temporary staffing, professional search and human resources. Designated a World-Class Franchise by FranSurvey for the past 12 years, the staffing company has available territories in San Francisco, Philadelphia, Brooklyn and Boston.
For more information about Express Employment Professionals, visit ExpressPros.com. If you are interested in owning an Express franchise, visit ExpressFranchising.com.
***
If you would like to arrange for an interview with Bob Funk to discuss this topic, please contact Sheena Karami, Director of Corporate Communications and PR, at (405) 717-5966.
About Robert A. Funk
Robert A. "Bob" Funk is chairman and chief executive officer of Express Employment Professionals. Headquartered in Oklahoma City, the international staffing company has more than 800 franchises in the U.S., Canada and South Africa. Under his leadership, Express has put more than 6 million people to work worldwide. Funk served as Chairman of the Conference of Chairmen of the Federal Reserve and was also the Chairman of the Federal Reserve Bank of Kansas City.
About Express Employment Professionals
Express Employment Professionals puts people to work. It generated a record $3.4 billion in sales and employed more than 540,000 people in 2017. Its long-term goal is to put a million people to work annually. For more information, visit ExpressPros.com.