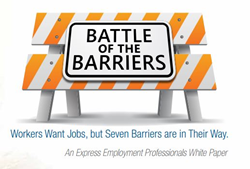 OKLAHOMA CITY, Ok. (PRWEB) January 22, 2018
On Wednesday, Express Employment Professionals will release a new white paper, entitled "Battle of the Barriers," exploring seven key barriers that get in the way of workers who want jobs:
1. Transportation
2. Child care
3. Elder care
4. Job training
5. Drug use and drug testing
6. Criminal record
7. Communications issues
Drawing on the real-world experiences of Express office owners and original surveys, the paper discusses why these barriers persist, even in a time of high employment, and who is most likely to be affected.
The fact is, America has plenty of job openings. But something is standing in the way for the 6.6 million unemployed Americans and the 5.1 million more who say they want a job but are not actively looking anymore. The paper will also offer some ideas of how to eliminate these barriers—if that is even possible.
The white paper will be released Wed., Jan. 24, 2018.
If you would like to obtain an advance copy of the white paper or arrange an interview with Bob Funk to discuss this topic, please contact Sheena Karami, Director of Corporate Communications and PR, at (405) 717-5966.
About Robert A. Funk
Robert A. "Bob" Funk is chairman and chief executive officer of Express Employment Professionals. Headquartered in Oklahoma City, the international staffing company has more than 790 franchises in the U.S., Canada and South Africa. Under his leadership, Express has put more than 6 million people to work worldwide. Funk served as Chairman of the Conference of Chairmen of the Federal Reserve and was also the Chairman of the Federal Reserve Bank of Kansas City.
About Express Employment Professionals
Express Employment Professionals puts people to work. It generated $3.35 billion in sales and employed a record 540,000 people in 2017. Its long-term goal is to put a million people to work annually. For more information, visit ExpressPros.com.