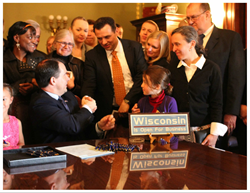 A video that equals the cell phone footage that captured the shooting of Walter Scott in South Carolina, NYPD Detective Frank Serpico
Kenosha, Wis. (PRWEB) January 22, 2018
Wisconsin's 3rd largest city. The family of a man fatally shot by police in 2004 is releasing the final cut of a documentary titled, "FORENSICALLY IMPOSSIBLE". The 19 minute video draws its title from the medical examiner's report about a description of events in comparison to autopsy findings.
21 year old Michael E. Bell was shot point blank to the head by a Kenosha WI police officer at 2:16 a.m. on November 9th, 2004. Bell's mother and sister watched close by. The city settled a $1.75 million civil rights lawsuit in 2010 (United States District Court for the Eastern District of Wisconsin, Case No. 02:05-CV-01176-CNC)
The father of Bell, Michael M. Bell, executively produced a documentary regarding the shooting and the subsequent investigation. The film is directed by investigative producer, Mark Caras, whose work includes acclaimed episodes of Snapped, American Greed, the FBI Files and the Detectives for A&E, Discovery, and Oxygen networks.
The film includes a short family history of Michael Bell plus TV news reports, dash cam footage, officer video depositions and two police re-enactment videos that led to a then Wisconsin record settlement in a federal civil rights case. The shooting led to a first-of-its kind state law that requires police fatal shootings to be investigated by agencies other than the department involved.
Famed NYPD Detective Frank Serpico describes "Forensically Impossible" as, "A video that equals the cell phone footage that captured the shooting of Walter Scott in South Carolina."
In his 12/8/17 email to his constituents, Wisconsin Attorney General Brad Schimel states that, "Michael Bell's death was tragic, but 13 years later, I cannot undo the way it was investigated." and "....it is very likely that the officer was mistaken in his belief that Michael Bell was trying to take his gun."
The initial release of the documentary has exceeded a combined 160,000 views on YOUTUBE and FACEBOOK in 7 weeks. The video can be seen at MichaelBell.info