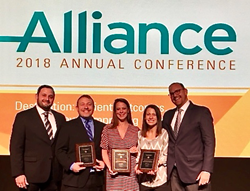 The collective contributions of the Alzheimer's Association, HRSA, a number of accrediting bodies, national thought leaders, and local faculty members led to Med Learning Group's award-winning program that truly advanced the quality of continuing medical education."
NEW YORK (PRWEB) January 22, 2018
The Alliance for Continuing Education in the Health Professions http://www.acehp.org/ presented Med Learning Group https://www.medlearninggroup.com/ with the 2018 Award for Outstanding Educational Collaboration on Saturday, January 20, 2018 during the Opening Night Awards Dinner at the Alliance 43rd Annual Conference in Orlando, Florida.
The award recognized New York City-based Med Learning Group's DETECT Initiative, which focused on the early diagnosis and management of Alzheimer's disease. The diverse continuing medical education programming reached 20,139 healthcare professionals (HCPs) from March 2016 through September 2017.
"It is most gratifying to recognize you and your colleagues for an outstanding work," said the Alliance Awards Committee. "It is through such efforts that we advance the quality and integrity of continuing education in the health professions. We commend your collective contributions to this goal and your commitment and dedication to our profession."
Med Learning Group, a continuing medical education division of Ultimate Medical Academy https://www.ultimatemedical.edu/, received support from Eli Lilly https://www.lilly.com/ to partner primarily with the Alzheimer's Association https://www.alz.org/ and the Health Resources & Services Administration (HRSA) https://www.hrsa.gov/ to develop this large-scale educational initiative, which included:

Fifty-one Geo-Map National Summits with 3 hours of content presented by a national expert and a local faculty member to ensure the program addresses local barriers to care. At each summit, a member of the local Alzheimer's Association chapter presented to provide HCPs with support resources to share with their patients/caregivers.
Five National Simulcasts of different Summits, available nationwide and delivered in partnership with the HRSA.
Twenty 3D Grand Rounds conducted at a variety of academic and community-based hospitals across the country.
Seventeen Geo-Map Roving Reporter Online Activities based on the educational gaps identified in local settings and inclusive of national and local faculty.
"Med Learning Group is honored to receive this prestigious award," Vice President of Accreditation and Outcomes at Med Learning Group Lauren Welch said. "The collective contributions of the Alzheimer's Association, HRSA, a number of accrediting bodies, national thought leaders, and local faculty members led to an award-winning program that truly advanced the quality of continuing medical education."
ABOUT MED LEARNING GROUP
Med Learning Group https://www.medlearninggroup.com/, a division of Ultimate Medical Academy, is a full-service accredited medical education company. Med Learning Group focuses on developing and implementing continuing education that improves healthcare practitioners' ability to provide optimal care to their patients.
ABOUT ULTIMATE MEDICAL ACADEMY
Ultimate Medical Academy https://www.ultimatemedical.edu/ is a nonprofit healthcare educational institution with a national presence. Headquartered in Tampa, Florida and founded in 1994, the school has more than 40,000 alumni and offers content-rich, interactive online courses to more than 15,000 students as well as hands-on training to hundreds of students. Ultimate Medical Academy students have access to academic advising, one-on-one or group tutoring, resume and interview coaching, job search assistance, technical support and more. Ultimate Medical Academy is institutionally accredited by the Accrediting Bureau of Health Education Schools (ABHES) https://www.abhes.org/. ABHES accreditation does not extend to continuing education programs. Ultimate Medical Academy's CME Division creates innovative and award-winning programming to maximize the physician, nurse, and healthcare professional learner experience and, ultimately, improve patient outcomes. Learn more by visiting https://www.ultimatemedical.edu/.