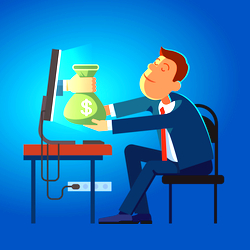 (PRWEB) January 29, 2018
With every year that goes by, residents of the USA change their place of residence, contact information, place of work, bank accounts and other aspects in their lives without realizing the great impact it has on their future. Due to these types of changes, there are 60 billion dollars that have accumulated all across the U.S in different agencies that their rightful owners are not aware of them. GoLookUp's Unclaimed Money search helps retrieve these lost funds in an easy to use search engine that allows U.S residents to find out if they have any funds tied up in different accounts.
An Abandoned Money Issue
There is an official term that refers to lost funds which governments use – Abandoned Funds. When one makes changes with their place of residence, or any other change that involves money, they run the risk of leaving money behind. Nowadays there are nearly 60 billion dollars in the following agencies that are unclaimed by their rightful owner:

Pensions
Life insurance
Savings bonds (only in the U.S)
Tax refunds
State-held unclaimed property
Uncashed paychecks
Many times, unclaimed money belongs to a person that has passed away, and in this case, the family of the deceased is entitled to his or her estate. The GoLookUp website also allows to conduct a People Search and a Background Check to find lost and deceased relatives that may have left unclaimed money behind.
How Does the Unclaimed Money Search work?
In order to find abandoned money, one will have to go to different officials to claim it back. Not only that, but searching for these funds is time costly and mostly comes up empty. GoLookUp saves precious time and money by searching public records data bases and compiling a report on unclaimed money.
After entering the first name, last name and the state of the person with lost funds, the website searches through billions of public records to find if that person is entitled to money. The states across the U.S are obligated by law to give back unclaimed money to its rightful owner, and after the search, GoLookUp supplies users with the necessary paperwork to claim it back.
With tens of billions of dollars considered abandoned money, millions of Americans are entitled to claim it back. Whether it belong to a living or a deceased person, GoLookUp helps track down unclaimed money within minutes and also gives information on how exactly to retrieve it from where it is found.