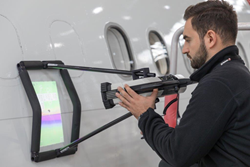 dentCHECK...will prove to be a great benefit to our maintenance operation...[as] aircraft are returned to service more quickly and efficiently"
ENGLEWOOD, Colo. & KONSTANZ, Germany (PRWEB) January 23, 2018
SR Technics, a world leading MRO service provider has adopted 8tree's dentCHECK inspection tool to further enable its maintenance operations in Switzerland and Malta.
"The main reason we have selected dentCHECK is because we were confident that this innovative solution will prove to be a great benefit to our maintenance operation allowing us to send accurate dent assessment reports to our customers more rapidly than ever before," said Jakob Straub, Head of Aircraft Services and Line Maintenance at SR Technics. "As a result, true value is added to our customer having his aircraft returned back to service more quickly and efficiently."
"We are thrilled to welcome SR Technics to the rapidly growing community of dentCHECK users," said Arun Chhabra, CEO, 8tree. "Their adoption of dentCHECK is strong validation of 8tree's rigorous design philosophy to create powerful, yet intuitive 1-button inspection tools for the aviation maintenance industry. This design approach allows us to empower users of all skill levels with 'go/no-go' answers, not just data. We look forward to enabling SR Technics' operations and having them experience 8tree's exceptional customer service. Additionally, 8tree continues to roll-out new capabilities that expand the dentCHECK eco-system and enhance operational efficiency for customers. Several of these new features will be on display at MRO Middle East 2018 in Dubai this week."
dentCHECK is the world's only handheld portable and completely wireless 3D scanner to be formally approved and published in Airbus' Tool Equipment Manuals (TEMs) for the express purpose of dent-mapping on metallic aero-structures and composite cabin floor-boards. Other aircraft OEMs are expected to issue similar guidance in the coming weeks, enabling more airlines to implement dentCHECK to boost their maintenance efficiency.
The world's leading airlines and MROs use dentCHECK. Detailed case-studies published by TAP-M&E and easyJet, demonstrate that dentCHECK drastically reduces inspection and reporting times by more than 80%. As such, it empowers aircraft maintenance operations with first-of-its-kind objective and consistent dent-inspection and blend-out results. This reduces aircraft Turn-around-Time (TaT), which in turn reduces lost revenues and improves operational efficiency for airlines. dentCHECK enhances safety through an improved understanding of airframe reliability.
For more information and to see dentCHECK in action, visit 8tree (Booth 623) at MRO Middle East, January 23-24 in Dubai, and always at http://www.8-tree.com.
About 8tree
8tree makes 3D optical surface inspection tools that solve chronic problems for multiple industries. 8tree's products empower every operator – from mechanics on the floor, to engineers in the lab – with precision measurement, portability and performance. With its patented user-centric product design, instant 'go/no-go' answers and zero-learning curve, 8tree is committed to making precision 3D scanning more broadly accessible – technically and commercially.
About SR Technics
SR Technics is a world leading MRO service provider for the civil aviation sector. The SR Technics Group offers its customer airlines comprehensive and totally-tailored solutions for the technical support and management of their aircraft fleets, engines and components. This is coupled with extensive engineering know-how, 24/7 worldwide component availability and broad technical training offerings. With its head office at Zurich Airport, SR Technics provides its services to about 500 airline customers through an extensive network of international operations and sales offices in Europe, America, Asia and the Middle East. For further information, please visit http://www.srtechnics.com.