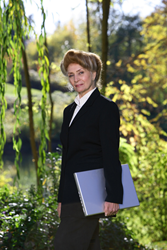 GRANTS PASS, Ore. (PRWEB) January 23, 2018
Water is the most valuable commodity on planet earth. Without it, life as humans know it is impossible. Yet, according to water researchers throughout the world and Sharon Kleyne, host of the nationally syndicated The Sharon Kleyne Hour Power of Water, Global Climate Change and Your Health on VoiceAmerica sponsored by Nature's Tears® EyeMist®, this precious resource is in a critical crisis. Millions of people, says Kleyne, lack access to fresh water and billions of gallons of fresh water are lost to unnecessary run-off and evaporation.
Kleyne, also the founder of Bio-Logic Aqua® Research Water Life Science®, warned her radio show listeners that, "we are resisting making water the #1 priority of our planetary infrastructure." Kleyne stressed that earth's water vapor is essential to the human body and the air we breathe. "Without the water vapor," Kleyne said, "humanity's future is sand and dust."
Dr. Cecil, Principle Scientist at Sustainable Earth Observation Systems, LLC, agreed. "The biggest problem," Cecil said, "is that we do not have, on the international, regional or local level, a water policy, a water plan. I worked in the government sector as a researcher and scientist for thirty-one years," Cecil continued, "and I never met sustained interest in a comprehensive water plan. In the same way, we have no international climate change plan, no international energy plan."
Dr. Grigg, a professor in the Department of Civil and Environmental Engineering, also agreed with Kleyne and Cecil. "Water," he said, "is in high demand yet limited in quantity. It is easily polluted and people living in poverty can't easily access it. There is global competition for water. All of these factors," Grigg explained, "combine to create a kind of social and political gridlock."
Grigg referenced his current study of evaporation in plant life, saying his current goal was to come up with water use plans supporting sustainability on a global scale, Cecil supported Grigg' assertion that, "evaporation is a big player in extreme climate events such as droughts, floods and monster storms."
Kleyne's own water technology research has led to her belief that the major breakthrough in the study of evaporation will come through the study of plants. Most importantly, Kleyne, Cecil and Grigg agree that everyone must understand that earth's water vapor and body water vapor that sustains life. Kleyne said that people should do all they can to slow down their body's water evaporation, remembering to drink at least 8 to 10 glasses of water each day. "One must slow down the evaporation process," said Kleyne. "Live longer. Be healthier," Kleyne added. "Many people don't understand this key point: water has energy."
All three researchers called for scientists, researchers, politicians and educators to come together to create a global water plan that addresses the global water crisis and will benefit everybody. In doing so, Kleyne urged "meeting in the middle", rather than separating over ideology. "We need to create such a plan from the roots up," Kleyne concluded, "and not settle for some scatter-shot approach." All three agreed that the world's water crisis will not be solved unless there is commitment and focus on a scale rarely seen before. Yet, it is not too much to demand. All that's at stake is life itself.
If you would like to listen to this program, please click here: https://www.voiceamerica.com/episode/95362/the-sharon-kleyne-hour
Date aired: December 18th, 2017
Guests: L. DeWayne Cecil, Ph.D. & Neil S. Grigg, Ph.D. (http://www.engr.colostate.edu/ce)