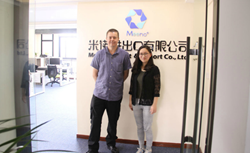 Meeno Group is very familiar with the Chinese sourcing process, and we've been building our verified Chinese suppliers database for years—Make them yours.
Yiwu City, Zhejiang Province (PRWEB) January 25, 2018
Meeno Group has been featured as the best sourcing agent in China. With its main office located near Yiwu International Trade City in Zhejiang, Meeno Group offers a flexible sourcing solution, supported by experienced and professional team.
From as low as MOQ of $500, Meeno Group helps foreign importers, access the world's largest wholesale market. Its sales and experienced staff help clients source for a range of products such as, textile, apparel, electronics, toys, kitchenware, garden equipment, workshop tools, furniture, jewelry and many more.
"At Meeno Group, we help clients access the Chinese market, but also support their branding, designing and logistics needs," said Mr. Max, Meeno Group General Manager. "We help our clients meet tight deadlines by connecting them to reliable product suppliers from our verified database."
Over the years, Meeno Group has grown to be a trusted and reliable sourcing agent in China for companies in Europe and America. This is due the simple and transparent sourcing procedures that save importers the back-breaking exercise of finding products, leave alone the supplier.
Meeno Group has adopted 8 sourcing procedures: Making a sourcing plan, doing a factory audit, negotiates prices, manages production, oversees quality control, conducting quality inspection, repackages, doing documentations and shipping door-to-door.
At every stage, importers can track their orders for transparency and accountability. It is a process that allows foreign companies source for products in China, without necessarily having a subsidiary company or office in China.
Cooperating closely with both importers and suppliers helps Meeno Group team to explore possible options that are cost effective. Depending on the quantity, delivery timeframe and budget, Meeno Group can recommend FCL or LCL.
Meeno Group uses courier, air or sea as the primary shipping methods, where the shipping terms are agreed upon with the importer. Also, the main payment options are Western Union or T/T.
Depending on the importation needs, Meeno Group has the best commission rate and fee structures in the market.
About Meeno Group
Meeno Group's proximity to Yiwu and flexible sourcing procedures has been the key pillars to its consistent growth. Founded by Max, Meeno Group provides a complete product sourcing solution in China for foreign importers who are neither familiar with the Chinese language nor terrain.
It offers a wide range of services such as searching for the products, identifying trusted suppliers/manufacturers, doing quality inspection, repackaging, storage, custom clearance and shipping management.
For more information:
Contact Person: April Wangyu (Sales Manager)
Email: info(at)meenogroup(dot)com
Phone: 86-180-6994-6717
Website: http://www.meenogroup.com