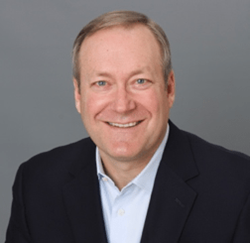 Atlanta, Georgia (PRWEB) January 26, 2018
Georgia State University's J. Mack Robinson College of Business has announced that Tim Bohling has joined the college in the newly created role of Chief Marketing and Communications Officer (CMCO), and as a Professor of Practice. He joins Robinson with over twenty years of industry leadership experience and a strong academic research record. His industry experience includes driving business performance and growth through the application of innovative methodologies across an array of disciplines including brand management and communications, data-driven demand management, digital marketing, analytics, product development and commercialization, and go-to-market client engagement. As CMCO, he joins the Robinson leadership team and leads the development and implementation of the Robinson marketing and communications strategy.
Bohling has held senior leadership positions in multiple global institutions. At IBM, he engineered successful digital marketing and demand generation efforts as Vice President of Worldwide Performance Marketing at IBM Global Technology Services, and increased success of IBM's go-to-market performance as Vice President of Marketing and Strategy at IBM Global Technology Services, North America. As Vice President and Head of North America Marketing at HCL Technologies, he led the marketing strategy that strengthened existing client relationships and elevated the HCL brand. Most recently, he was Chief Marketing Officer at Stratasys, where he led the company's brand transformation from a product centric 3-D printing company to a solutions-based additive technology company.
"We are excited to have a leader of Tim's stature as Robinson's inaugural Chief Marketing and Communications Officer," said Robinson College Dean Richard Phillips. "I look forward to working closely with Tim as we create the business school of the future."
A 2012 alumnus of Robinson's Executive Doctorate in Business program who has published in leading academic journals, Bohling will also serve as a Professor of Practice. His research is centered on both scholarly rigor and practitioner relevance in the areas of customer relationship management, decision modeling, customer lifetime value, and digital marketing ecosystem dynamics and effectiveness.
"Tim is the consummate practitioner scholar," Phillips said. "We look forward to having him share his leadership expertise in our graduate student and executive education programs."
"I'm thrilled to be joining this community of students, scholars, and professionals who specialize in discovering insights that drive smarter business decisions and performance," said Bohling. "I look forward to help elevate the Robinson brand and contribute to the development of a new generation of business leaders."