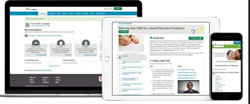 "We are very pleased to be recognized by NEEBC for our Torchlight Child and Torchlight Elder programs that we have integrated into the wellness benefits program we offer our employees," said Diane Terwilliger, Human Resources Manager, Payroll and Benefits for Boston Private.
BOSTON (PRWEB) February 13, 2018
Torchlight announced today that one of its customers, Boston Private, has been selected as New England Employee Benefits Council's (NEEBC) 2017 Emerging Benefits Award Winner for providing its employees with Torchlight's cloud-based caregiver support solution as part of its benefits and wellness program. NEEBC expanded its award categories this year to include a "Best Emerging Benefits" winner. It honors a company that is responsive to a need within a subset of its employee base and invested in this important demand and related benefit.
"We are very pleased to be recognized by NEEBC for our Torchlight Child and Torchlight Elder programs that we have integrated into the wellness benefits program we offer our employees," said Diane Terwilliger, Human Resources Manager, Payroll and Benefits for Boston Private. "We understand that our employees are pulled in many directions in their personal lives and our goal is to support them with what they are dealing with day to day. It is important to us to support our employees from 'hire to retire' and the feedback from employees that have utilized our child and elder caregiving benefit has been very positive. Seven percent of our employees are utilizing the Torchlight platform including the decision support tools, roadmaps, online resources and the interactive webinars."
Family caregiver responsibilities are hitting employees and employers across the country and across all industries. According to Transamerica Institute's recent report, The Many Faces of Caregivers: A Close-Up Look at Caregiving and Its Impacts, 26 million caregivers are full-time employees. As a result of family caregiving duties, 76 percent have made some type of adjustment to their employment including using sick or vacation days, taking a leave of absence, or quitting their job. Ceridian found American employers are losing $38.2 billion in productivity annually due to their employees' family caregiving responsibilities.
Back in 2015, Boston Private undertook an executive-sponsored initiative to build out its comprehensive wellness benefits program for its employees. The goal was to offer a comprehensive benefits plan that (1) serves not only the employee but also his or her family and (2) helps with the hiring and retention of top workforce talent. During this process, the company identified stress issues within its workforce surrounding various caregiving aspects with employees' children and aging parents.
After a thorough search, Boston Private partnered with Torchlight to first roll out the Torchlight Child program in 2015 which helps support employees dealing with a wide gamut of child-related challenges including learning disabilities, excessive screen time, cyber-bullying, and anxiety issues. In 2016, the company implemented Torchlight Elder to support employees caring for aging parents and loved ones who are also challenged with many issues including Alzheimers, Dementia, financial and legal decisions, end-of-life decisions, elderly housing options, unique medical needs, and navigating Medicare and Medicaid.
"Companies are realizing that even if a benefit doesn't impact its entire employee population consistently, there are specific ways that they can provide real value to a portion of their employees. It's simply a fact that employees across the age spectrum are caring for children, aging relatives or are aging themselves. It's stressful and time-intensive for both an employee and their employer," explains Patty Houpt, Executive Director of NEEBC. "It's become a significant issue for managers to have their staff either absent physically or absent mentally, even if the individual is in the office. Forward-thinking companies, like Boston Private, are identifying that by truly becoming a partner with their employees in an effort to fully support their employees' families, they can earn gains in presenteeism, employee loyalty and gratitude. Those are soft benefits that can provide hard financial returns."
"Boston Private is a perfect example of a company that has identified the strategic benefits of investing in and embracing family support benefits," said Adam Goldberg, CEO and founder of Torchlight. "The company strives to truly integrate its full suite of well-being support services and platforms into its employees' lives. As a result, the company has happier, healthier and better-prepared employees, as well as family members who receive the proper support. In turn, the company may benefit from not only human capital but also financial returns."
About Torchlight
Torchlight is a pioneer in caregiver benefit solutions, a new approach to managing the costs and complexities of caregiving for employers and employee caregivers today. We do this by enabling employees -- many who have caregiving duties for children with acute and everyday challenges and elderly loved ones -- to more effectively navigate and identify the resources that are available to them, including cost-free services that exist outside of employee benefit plans. With Torchlight, employers have an ROI-driven model for managing caregiving -- a $38.2 billion challenge in the US alone -- so that they can be both compassionate and competitive in the evolving labor market where more than one in three employees today is a caregiver. Today, Torchlight covers over one million working families at leading enterprises throughout the US.
Based in Boston, the company was founded by caregiving pioneer Adam Goldberg, M.Ed. For more information, contact sales (at) torchlight (dot) care, phone 844-693-3477, or visit Torchlight.care.