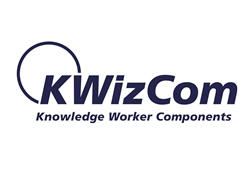 TORONTO (PRWEB) January 24, 2018
KWizCom, a leading developer of SharePoint Forms & Workflows as well as multiple other powerful SharePoint web parts, add-ons and apps for Office 365 (SharePoint Online), unveiled a new printing add-in for Office 365 customers, called Convert to PDF/Print App.
This new SharePoint Online app empowers business users to effortlessly convert to .PDF & print anything in SharePoint Online. The Office 365 clients will be pleased to find out that they can now simply select the documents, list items, SharePoint pages and attachments, merge them into a .PDF file and print – all done in a single click!
If you would like to find out first-hand what the Convert to PDF/Print App is like, KWizCom offers a no-cost evaluation version.
For more details on KWizCom's Print App and other KWizCom products, please visit the company's website at http://www.kwizcom.com
Follow KWizCom on Twitter @KWizCom
Become a fan of KWizCom on Facebook: https://www.facebook.com/KWizCom
Join KWizCom on LinkedIn: http://www.linkedin.com/company/kwizcom
Contact a KWizCom Account Specialist at +1-905-370-0333/+1-855-KWIZCOM or info(at)kwizcom(dot)com
About KWizCom Corporation
Since 2005, KWizCom has provided innovative solutions and services to make SharePoint even better for over 7,000 companies worldwide. KWizCom's solutions and services expand Microsoft SharePoint out-of-the-box capabilities, streamline workflow, maximize efficiency and enhance over-all productivity for hundreds of thousands of users. KWizCom, a Gold Certified Microsoft Partner, is headquartered in Toronto, Canada. Please visit http://www.kwizcom.com to find out more about KWizCom's clients, people, partners and solutions.