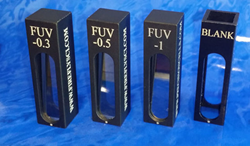 STATEN ISLAND, N.Y. (PRWEB) January 24, 2018
FireflySci has been a fast-growing cuvette manufacturer that continues to find ways to improve and grow their market share. With the addition of spectrophotometer calibration standards in 2010, FFS expanded their market reach and have brought many ground breaking products to the spectroscopy market. These products include a UV-VIS calibration standard that covers the optical range of 200-3000nm as well as some fantastic wavelength calibration standards.
Being a small startup with limited resources, FFS has always manufactured their calibration standards in-house. However, getting a calibration grade spectrophotometer was well out of reach since they cost tens of thousands of dollars. The way FireflySci would calibrate their standards was to use the spectrophotometers at NRC Canada lab. The NRC lab is fully ISO 17025 accredited so all the standards FFS manufactured happened to be made in an ISO 17025 facility. This, of course, had its limitations.
The most significant limitation was that FireflySci was not officially ISO accredited. Many labs such as labs in the pharmaceutical industry were not able to take advantage of buying from FFS because they needed a spectrophotometer calibration company with ISO 17025. As proven in the past, the management at FFS got to work on fixing this problem by getting their company ISO 17025 accredited for their photometric and wavelength calibration standards.
The process took months of planning and a considerable amount of time and money was invested in this project. All the hard work paid off because as of November 2017, FireflySci has obtained their official ISO 17025 accreditation. Now all FFS spectrophotometer calibration standards are stamped with an official ISO 17025 stamp and number. Companies can publically access and view FFS's scope and ISO number on the http://www.SCC.ca website.
The staff at FireflySci are pumped to deliver this improvement to their loyal customer base. FFS manager Paul Woitovich states that this is just the beginning for FFS as they increase their market share in the spectrophotometer calibration industry. FFS engineers are planning many new improvements for 2018.
For more information visit http://www.fireflysci.com.