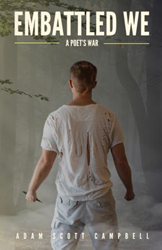 My book is, at heart, a plea
LITTLETON, Colo. (PRWEB) January 25, 2018
Within the pages of Adam Scott Campbell's new book, Embattled We: A Poet's War readers will discover the poetic work of a man who has survived depression and multiple health conditions. Each poem was written as a means of survival and call for help, and now they act as outreached hands to others fighting their own battles.
Through deeply personal poetry, Campbell explores his depression and health history, beginning with his first brain tumor surgery at age nine, and wrestles with how they impact his life both in grand and minute ways. Every person on this planet suffers, and so can relate to this emotional, honest work that upholds perseverance and courage.
"My book is, at heart, a plea," states the author. "I've been given so much help in my struggles. I want Embattled We: A Poet's War to become a household name, because I know that so many stand on the brink of giving up. My message is to persevere always."
About the Author
Adam Scott Campbell writes from his personal experiences, including two brain tumor surgeries at ages nine and eighteen and three eye surgeries to correct his double vision, which he still experiences. He won the Courage Award of his high school graduating class and persevered for ten years to earn his two-year associate's degree. This is his debut work, and he is currently writing his first novel to be released in the future.