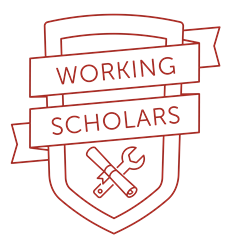 MOUNTAIN VIEW, Calif. (PRWEB) January 24, 2018
Sunnyvale Working Scholars will give Sunnyvale residents an opportunity to earn a bachelor's degree entirely online with no out-of-pocket costs through courses provided by Study.com and Thomas Edison State University (TESU). Google, LinkedIn and Friends of the Sunnyvale Public Library are inaugural funders of Sunnyvale Working Scholars, which is set to launch on January 25.
Nearly 40% of Sunnyvale residents over the age of 25 do not have a college degree. Working Scholars helps remove the three main barriers to attaining a degree: cost, convenience and confidence.
Students would complete the majority of course requirements online through Study.com's College Accelerator program. Credits would then transfer to TESU (a four-year accredited university) where students would also complete final requirements online and ultimately earn their degree. The online format offers flexible learning for students juggling work and family commitments, while Study.com's easy-to-digest video lessons remove much of the intimidation factor of completing college-level courses.
"Silicon Valley is thriving, but so many residents aren't able to take part in the region's economic prosperity and are thus forced out of the area," said Adrian Ridner, CEO and Co-founder of Study.com. "A college degree would help unlock these residents' earning potential and Working Scholars offers a convenient, tuition-free pathway to a degree. Armed with a bachelor's degree, we hope these residents can access more opportunities and take advantage Silicon Valley's rapid growth. We're also proud to see influential tech companies like Google and LinkedIn support the program."
All costs of the degree are community funded: covered by grants, donations, philanthropic organizations, and the local business community. By addressing college affordability at the root and lowering the total cost of a degree to under $7,500 through discounted fees and low-cost transferable credit, the Working Scholars program allows the community to fund these degrees in a feasible way.
"Education is the foundation that supports our innovation economy and our collective success depends on creative approaches and partnerships like this one," said Sunnyvale Mayor Glenn Hendricks. "We're proud to have so much support in our community for initiatives like this and look forward to Sunnyvale residents taking advantage of this opportunity."
Not only do participants earn a tuition-free college degree at the end of their journey, but they also learn valuable life and career skills along the way with courses and certifications in financial literacy, personal brand, business ethics, leadership and more.
Applicants that meet preliminary requirements are accepted to the program on a first come, first serve basis but all applicants have access to a personal finance course and a 3-month trial to Study.com sponsored by Guardian Life Insurance Company of America.
Working Scholars is currently live in Mountain View, Gilroy and East Palo Alto; Sunnyvale Working Scholars is set to launch on January 25, 2018.
More details about Sunnyvale Working Scholars can be found at http://www.workingscholars.org or by attending an information session on Thursday, January 25, 2018 at Sunnyvale City Hall from 6–8 p.m.
About Study.com
Study.com is an online education platform that helps learners of all ages excel academically and close skills gaps. From test prep and homework help to earning low-cost college credit and developing workplace skills, Study.com's online courses, short animated video lessons and study tools have made learning simple for over 30 million students, teachers and working professionals. Study.com was founded in 2002 and is a privately-held company located in Mountain View, Calif. Find us online at http://www.study.com or download the mobile app from the iOS app store or Google Play. Working Scholars is a fiscal sponsorship fund at Silicon Valley Community Foundation, a 501(c)(3) public charity registered in the United States, EIN# 20-5205488.
About Silicon Valley Community Foundation
Silicon Valley Community Foundation advances innovative philanthropic solutions to challenging problems. We engage donors and corporations from Silicon Valley, across the country and around the globe to make our region and world better for all. Our passion for helping people and organizations achieve their philanthropic dreams has created a global philanthropic enterprise committed to the belief that possibilities start here. Learn more at siliconvalleycf.org.