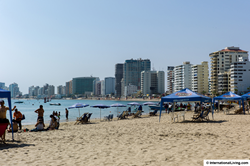 You can pick the climate you like best, and this ecologically diverse country has so much to satisfy you
BALTIMORE (PRWEB) January 24, 2018
The countries that boast the best climate in the world all offer sun year-round and a variety of options when it comes to the weather—from hot coastal zones to moderate, spring-like temperatures year-round.
To arrive at the winning locales in the Climate category of International Living's Annual Global Retirement Index 2018, the editors collected and evaluated data to include temperature, rainfall, and humidity, and also took into account anecdotal input from expats and correspondents living in the specific communities being assessed.
"Weather is one of the most important considerations for a retiree thinking about where to settle overseas. At International Living, we sometimes call this the 'Goldilocks' category of our annual Index," says Jennifer Stevens, International Living's Executive Editor, referring to IL's Global Retirement Index, which each year ranks and rates 24 countries across a dozen categories, climate among them.
"That's because what's just right for one person might not be for the next," says Stevens. "Some folks prefer hot and humid locales, like what you'd find at the beach in Costa Rica. Others prefer a cooler, milder climate, like that in Medellin, Colombia, for instance.
"The good news is that in the world's best retirement havens, you have great options when it comes to the weather. And that means no matter what you prefer, you can find a good-value locale that offers it—and permanently retire the snow shovel, the down coat, and the window scraper."
The countries that take the top honors for Best Climate in the World in this year's Annual Global Retirement Index 2018 are...
# 1 Ecuador
Ecuador wins the top spot in the Climate category of International Living's Global Retirement Index, scoring 98 out of 100. Ecuador lies directly on the equator, so the entire country enjoys 12 hours of direct equatorial daylight 365 days a year. However, retirees are taking advantage of Ecuador's four distinct geographical areas—the Sierra (mountains), the Oriente (eastern rainforests), the La Costa (Pacific coastal plains), and the Galapagos Islands—and choosing which suits them best.
"My wife Rita and I had a very good life in the United States," says IL Coastal Ecuador Correspondent, Jim Santos. "We lived in a beautiful riverfront condo a few hours from Washington, D.C. We had a boat, good friends, and access to great seafood and fresh produce in season.
"But there was one major drawback—we realized that we were both working full-time and not really able to save much for retirement.
"Then we discovered Ecuador.
"Ecuador has some of the best weather in the world, and something for everyone. There are warm, sunny beaches and temperate-weather mountain options. You can pick the climate you like best, and this ecologically diverse country has so much to satisfy you.
"Preferring the warmth of endless summer, we sold our boat, cars, and home in the U.S. and purchased a beachfront condo in Salinas on Ecuador's southwest coast.
"A wonderful benefit of this varied and moderate climate is the bounty of fruits and vegetables you can enjoy. Imagine fresh strawberries, all year round, for $1 a pound or less—that's right, Ecuador uses the U.S. dollar for currency."
# 2 Bolivia
Bolivia, one of only two land-locked nations in South America, is second from the top in the Climate category with a score of 90.
Bolivia's share of the Amazon rainforest covers 66% of the country, though this is the least populated area. Most residents live at higher altitude thanks to the majestic Andes Mountains that run through Bolivia's western side. The country lies well below the equator in the southern hemisphere where it's often hot. But the higher in altitude, the more of a cooling effect.
"Because of Bolivia's proximity to the equator, the country maintains a mild climate year-round, though it's still far enough south to have slight seasonal changes," says IL Correspondent, Wendy DeChambeau. "I found every highland city I visited to be comfortably warm, yet not too hot. "
Tarija sits right in the middle with average temperatures fluctuating between 60 F and 73 F.
"The climate in the southern city of Tarija is great, with mild clear blue-skies and gentle breezes. Occasionally those skies produce thunderstorms, which water the nearby vineyards."
Average highs in the popular mountain city of Cochabamba, range from 75 F to 82 F throughout the year. Sucre is a little cooler with average highs between 58 F and 72 F.
"Cochabamba, with its sun-drenched days, reminds me of Southern California. While the high-altitude cities will get cool enough to warrant sweaters and scarves every now and then, you'll never need to worry about shoveling snow or defrosting your car windows."
Bolivia's winter starts in June and runs into September, while the summer months cover late December through March. And the higher the elevation, the cooler the climate becomes.
(Costa Rica, Colombia, Peru and Panama are all tied for third place in the Annual Global Retirement Index 2018 Climate Category with a score of 89.)
# 3 Costa Rica (tie)
Although Costa Rica is just the size of West Virginia, it boasts a wide range of different climates, so there really is something for everyone.
"The weather is absolutely perfect in Costa Rica. I can say that with assurance because, with 12 microclimates within the country, no matter what your definition of 'perfect' weather is—you can find it here," says John Michael Arthur, IL Costa Rica Central Valley Correspondent.
"Like it warmer? Live near the beach. Like it cooler? Live in the mountains. More rain, less rain? It's yours. If you want a stable mid 70's temperature all the time, we've got it. If you prefer a bit more variation, there's a place in Costa Rica."
Jackie Minchillo, IL Costa Rica Coastal Correspondent, lives on the Pacific coast with her husband, Junior. She enjoys the constant sunshine of Tamarindo.
"I'm a sunshine lover and having grown up in Michigan and then living in Chicago as an adult, I was done with winter. Living in Costa Rica at the beach, I see the sunshine dawn nearly every day of the year—I don't even own a winter coat anymore and I never even have to put on a pair of jeans unless I'm going into the city, or up in the mountains for a weekend. When it does rain here, it feels refreshing.
"My favorite thing in general I would say is never needing to check the weather. I know a pair of shorts, a tank top, and a pair of flip flops will be just fine—every day."
# 3 Panama (tie)
Climates can vary greatly, depending on where in Panama retirees are. The Azuero Peninsula is on the Pacific Coast, with towns like Chitré, Las Tablas, and Pedasí a four- to five-hour drive from Panama's capital. Here, rainfall can be as little as 39 inches a year. In fact, you'll find the region's only semi-desert just outside Chitré.
"In landlocked mountain towns like Boquete, the annual rainfall can be just as high as it is in the Caribbean archipelago of Bocas del Toro," says Jessica Ramesch, IL Panama Editor, who lives in Panama City. "But cooler weather—about 70 F to 80 F during the day and 60 F to 70 F at night—means that you don't feel sticky in the humidity. In Boquete, a misty rain falls frequently, even on sunny days. This is why Boquete is known to many as a town of rainbows.
"There are mountain towns that are cooler and coastal towns that are a bit drier—but Panama City's climate suits me perfectly. I don't spend my days slathering on hand cream, as I did when I was in the States. There's no static cling and no worrying about chapped lips. My skin is healthier here, thanks to the moisture in the air. I'm not the only one…people here tend to look 10 years younger than they are."
Larke Newell chose to leave Vancouver Island for a warmer Panamanian climate… and a new life without the worries of hurricanes.
"Once more my husband, Gary, and I exchange triumphant looks and high fives. We have just gone online and, besides reading indignant emails from those back home in Canada, we have viewed the weather conditions in both Canada and the U.S.: snow, road closures, and freezing temperatures.
"No, we are not gloating (well maybe just a teeny tiny bit), nor wishing our Canadian friends and family any ill will. It is just one more justification for moving to Panama. Our beloved Vancouver Island, especially, has a very chilly, cloudy, rain-filled winter, which we found very depressing.
"The icing on the Panamanian weather cake: It holds the privileged position of having no hurricanes. It sits just outside the hurricane corridor, which is partially due to the warmer currents at the equator."
# 3 Colombia (tie)
Colombia is the second most biodiverse country in world, meaning there is something for everyone. Warm and tropical on the Caribbean coast, eternal spring in the lower Andes mountains, and even cooler in the upper mountains.
"I´m originally from the northeastern part of the U.S. and I have had my fill of snow. I don´t want to see it, shovel it, or drive in it ever again.," says Nancy Kiernan, IL Colombia Correspondent. "But I also don´t really like the humid, hot weather that frizzes my hair, melts my makeup, and makes my clothes stick to my skin.
"So, for me, the city of Medellín is perfect. Everyday is the same with daytime highs in the upper 70s F to low 80s F. Jeans, short sleeved shirts and sandals are appropriate every day of the year."
Heather Raheb from Tampa, Florida echoes that sentiment. "One of the top reasons we moved to Medellín was the weather. In Florida it is hot and humid at last half the year. Here, even in July, it really is spring weather, I love it."
A spring-like climate can be found in many of the cities and towns such as Pereira, Bucaramanga, and Armenia which are scattered throughout the mountains.
But if 90 F with hot sun and humidity is at the top of the priority list, Colombia has it covered as well. The Caribbean coastal cities of Cartagena, Barranquilla, and Santa Marta allows trips tp the beach in shorts, flip-flops and bathing suits. Warm evening breezes cool things down to the mid-70s F.
Lisa Anderson from Seattle, Washington lives in Santa Marta. She says, "Being able to go the beach every day is a dream for me." While Mike McMurdo spends every Sunday with his family. "We love the beach, and there are miles and miles of beaches in the greater Santa Marta area."
# 3 Peru (tie)
"Of the 32 world climates that exist around the world, Peru has an astounding 30," says Steve LePoidevin, IL Peru Correspondent. "From the year-round blue sky and sunshine of the tropical northern coast to the humid, hot Amazon rainforest to the cold weather of the Andes, there is a climate to suit everyone's taste."
When it comes Peru's weather, it's a local discussion...
"It's impossible to describe an average temperature or overall climate," says Le Poidevin. "But it can be divided into three or four basic regions; the northern and southern coast, the Andean highlands and the eastern lowlands or rainforest. Rainfall, cloud cover and daily temperatures vary greatly for each of these locations."
The seasons are reversed in the southern hemisphere so for most of the country, there are at least two fairly distinct seasons. Summer peaks in January and February while the coolest months are generally August and September.
"The most diverse climate is found in the Andes highlands. Temperatures vary greatly from the temperate climate of low-lying valleys to the frigid weather of the higher mountain reaches. The climate is almost the exact opposite of the coastal regions.
"The Peruvian Amazon rainforest covers 60% of the country. As with other rainforests around the world, the weather is hot, humid and rainy most of the year. Year-round temperatures average in the low 80s and humidity hovers around 75%."
More details on the top six countries in the Climate category of the Annual Global Retirement Index 2018 can be found here: The Best Climates in the World
Editor's Note: Members of the media have permission to republish the article linked above once credit is given to InternationalLiving.com.
Further information, as well as interviews with expert authors for radio, TV or print, is available on request. Photos are also available.
For information about InternationalLiving.com content republishing, source material or to book an interview with one of our experts, contact PR Managing Editor, Marita Kelly, +001 667 312 3532, mkelly@internationalliving.com
Twitter: @inliving
Facebook: https://www.facebook.com/International.Living/
About International Living
For 37 years, InternationalLiving.com has been the leading authority for anyone looking for global retirement or relocation opportunities. Through its monthly magazine and related e-letters, extensive website, podcasts, online bookstore, and events held around the world, InternationalLiving.com provides information and services to help its readers live better, travel farther, have more fun, save more money, and find better business opportunities when they expand their world beyond their own shores. InternationalLiving.com has more than 200 correspondents traveling the globe, investigating the best opportunities for travel, retirement, real estate, and investment.