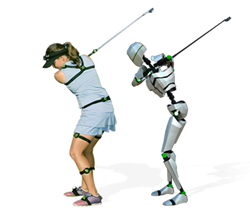 Aside from being a constructive teaching tool, it is actually pretty cool.
ORLANDO, Fla. (PRWEB) January 24, 2018
MySwing Golf, the creators of the most comprehensive, portable, motion capture tool for golf—MySwing Professional—will be at the PGA Merchandise Show from January 24-26 where they will showcase their cutting-edge golf-coaching system to the thousands of golf professionals from around the world who will descend upon the Orange County Convention Center for the annual show.
At this year's show, visitors to the My Swing booth will have the chance to step inside My Swing Professional's sensor-based motion capture software during a one-person, 3D demo experience they will be offering throughout the show.
Visitors trying the demo will be given a pair of VR goggles and then virtually transported into an immersive 3D experience inside the MySwing Professional software. There, they will be able to interact with the software and explore its many capabilities.
MySwing Professional software allows coaches to record, store and analyze their students' swings; view tilts, rotations, angles and more in real-time or recorded; receive real-time visual and audio feedback and compare student swings to tour swings. The data collected by MySwing Professional gives coaches the advantage of using recorded or real-time analytical and motion data to improve student posture and swing over time.
"The best thing about this event is that it really makes it possible for us to connect one-on-one with golf coaches and instructors from around the world and give them a live view of how MySwing works as well as allowing them the opportunity to ask questions," said Gauthier. "Until now, I don't think people realized this kind of technology was even attainable. The first thing instructors will notice is the smiles they get when their students see themselves in a 3D avatar and realize that Hollywood motion capture technology has made it into the golfing world. Aside from being a constructive teaching tool, it is actually pretty cool."
Last month, MySwing introduced its latest product, MySwing Balance. MySwing Balance is a rugged, military-grade tough balance plate with an easy-to-carry design and wireless WiFi connection for portability. With MySwing Balance, instructors get all the information they need, including live and recorded Center of Pressure, heel-toe balance, pressure velocity, vertical load and stance width. The unique, intuitive software interface is designed with instructors in mind. MySwing Balance also introduces a real-time visual and audio biofeedback training mode to help players get better faster.
As a company that is dedicated to embracing technology, the MySwing Pro 3D virtual reality demo at this year's PGA Merchandise Show fits right in with MySwing's innovative vision. Demo participants will be able to have a one-of-a-kind immersive experience that will give them a birds-eye view of the motion-capture based technology that makes the MySwing Professional system such an effective golf teaching tool.
MySwing will be at the PGA Merchandise Show from January 24-26 at Booth 863. For further information about the 2018 PGA Merchandise Show, please visit, http://www.pgashow.com/.
About MySwing Golf, Inc.
MySwing Golf, Inc. is the leader in wireless, full-body motion capture technology. We're committed to using cutting-edge technology to create innovative and practical tools for sports professionals.