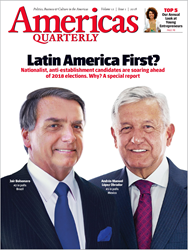 "Anti-establishment nationalists like Jair Bolsonaro and Andrés Manuel López Obrador stand to benefit—unless more moderate candidates also embrace the [anti-corruption] cause."
NEW YORK (PRWEB) January 29, 2018
"Corruption will be the defining issue in Latin America's 2018 elections," says Americas Quarterly Editor-in-Chief Brian Winter in the magazine's new issue. Six countries in the region including its three most populous—Brazil, Mexico, and Colombia—are scheduled to hold presidential elections this year. To a greater degree than the past, anger over graft is providing a boost to otherwise unlikely presidential contenders. "Anti-establishment nationalists like Jair Bolsonaro and Andrés Manuel López Obrador stand to benefit—unless more moderate candidates also embrace the [anti-corruption] cause," says Winter. "Latin American establishments are running out of time. Without change, the region's political landscape may well look radically different a year from now."
In the 50-page special report "Latin America First?" Americas Quarterly takes an in-depth look at the leading candidates and their policy proposals in the six countries where democratic elections are scheduled for this year—and why they might win. Winter profiles Jair Bolsonaro, a retired Army captain and apologist for torture and dictatorship who has become a serious contender for Brazil's presidency. Brazil's "Car Wash" judge Sérgio Moro and former Attorney General Rodrigo Janot reflect on the persistence of corruption and offer ideas for leaders to guarantee real accountability and transparency. María Amparo Casar, the head of Mexicans against Corruption and Impunity, argues that strong institutions can fill the void when politicians fail.
LIVE EVENT:
On February 13, experts and investors will analyze the risks and opportunities that the elections will bring in Brazil, Mexico, Colombia and elsewhere at AQ's launch event in New York. Follow the conversation at @AmerQuarterly.
To learn more, register for the launch event, and/or request interviews with the authors, please contact: mediarelations(at)as-coa.org | 1-212-277-8384 | 1-212-277-8333.
Also in this issue:

AQ Top 5 Young Entrepreneurs: The nominees in our second annual survey stand out for their visions as well as their business savvy.
Journalist Jonathan Franklin takes a close look at Brazil's biggest criminal gang and how its regional expansion poses a challenge to the rest of South America.
Richard Feinberg reviews three memoirs that look back on some of the most tumultuous chapters in Latin America's history.
Americas Quarterly's first 2018 issue will be available online in its entirety on January 29 at americasquarterly.org.
Americas Quarterly (AQ) is the leading publication dedicated to politics, business, and culture in the Americas. Borrowing elements from The Economist, Foreign Affairs, and National Geographic—but with a focus on Latin America—AQ has an influential, agenda-setting audience and a print circulation of 15,000. Readers include CEOs, senior government officials, and thought leaders, as well as a general-interest audience passionate about the Americas. Launched in 2007 and based in New York City, AQ is an independent publication of Americas Society/Council of the Americas, which for more than 50 years have been dedicated to dialogue in our hemisphere.