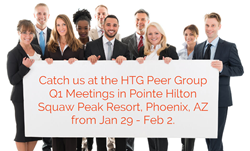 Mindmatrix will be Gold Partner for all 2018 HTG Peer Group events.
PITTSBURGH (PRWEB) January 25, 2018
Mindmatrix Inc., the Pittsburgh-based leading PRM Software provider, will be participating in the HTG Peer Group Q1 Meetings to be held in Pointe Hilton Squaw Peak Resort, Phoenix, AZ from Jan 29 – Feb 2.
Recently acquired by Connectwise, HTG is a leading Consulting, Coaching and Peer Group Organization for the Technology Service Provider Ecosystem. HTG Peer Group meetings are one of the most sought after MSP events in the marketplace because they offer participating MSPs a platform where the best practices, knowledge, latest trends and insights for growing a MSP business are shared. The HTG Peer Group Meetings also offer great networking opportunities for its participants.
At the Peer Group Meeting, Mindmatrix will be represented by its Director of Marketing, Kevin Hospodar and MSP Marketing & Sales Enablement Specialist, Eric Weber. Kevin says, "MSPs and IT service providers are the primary participants in the HTG Peer Group Meetings. While the MSPs and IT service providers are very good at what they do, they are often too tied up in their business to work on growing it. HTG meetings provide their participants with the knowledge that they need to be able to effectively market and sell their products and services. Whether it is discussing the best practices in MSP sales and marketing or providing information about the latest sales and marketing tools, HTG meetings offer them all at one single event. We believe the HTG Peer Group Meeting is a great platform for us to showcase our MSP-IT Advantage Program and share how it has benefited our clients in the IT sphere."
About Mindmatrix:
Mindmatrix offers Channel & Sales Enablement software for direct and indirect sales channels. Mindmatrix is the only provider of a Single Unified Platform that combines PRM software, Direct Sales and Channel Enablement, Channel Marketing software, Marketing Automation software and Marketing Asset Management. Mindmatrix takes you through every step in the sales process from lead to revenue, enabling your salespeople and channel partners to sell more, faster.
Through its MSP-IT Advantage Program, Mindmatrix works with hundreds of MSPs, integrators and VARs to make their marketing easy and effective. Mindmatrix empowers MSP sales and marketing teams with Marketing Automation, Sales Enablement and Asset Management tools, Content and Managed Marketing Services to enable MSPs, VARs and integrators to generate leads and close deals more effectively.