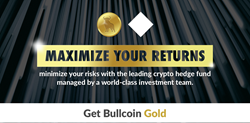 Maximize your gains while minimizing your risks with Bullcoin Gold!
SINGAPORE (PRWEB) January 27, 2018
Bullcoin Gold (BCG) was launched publicly in an Initial Coin Offering on January 20th.
Funds from the token sale will be used to create a hedge fund focused on cryptocurrency investing, providing gains to BCG holders each quarter.
The Bullcoin Gold hedge fund will have a diversified portfolio of more than 50 high-potential cryptocurrencies. The portfolio will provide opportunities to generate exponential gains while limiting the risk exposure in cryptocurrency investing.
"The market value of cryptocurrencies has soared tremendously in recent years. Our team is the right one to understand what these and other market trends mean." said Founder, Nicholas Foo.
There is a very significant opportunity for long-term gains in crypto investing. The world is seeing just the initial stages of the development of blockchain technology, and new models have the potential for continued growth when evaluated and targeted correctly.
"We have a team of world-class fund managers and advisors with strong financial and cryptocurrency background I invite everyone to view our website and white paper because I think you'll come away with the same confidence that I have in our potential for success," said Foo.
ICO and How to Buy Tokens
The Bullcoin Gold ICO launches January 20th and will run through February 20th, with ICO tokens selling at a 20% discounted price. A hard cap of 5,000,000 tokens will be available during the ICO. In total, the company plans to create 21 million BCG tokens, issued through the Waves platform. Thee will be no additional issuance of BCG in the future.
An All-Star List of Advisors and Fund Managers
The Bullcoin Foundation is pleased to be working with some of the best leaders in the cryptocurrency, blockchain, and investment space. Our advisors and fund managers bring a wealth of knowledge and experience in industries that will play a significant role in the future of the cryptocurrency space.
Please refer to our official website for details about our team and further details about our project.
Official website: bullcoin.gold