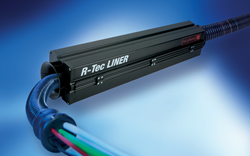 MILFORD, Ohio (PRWEB) January 26, 2018
Murrplastik's R-TecLiner self-contained dress pack system is specially designed to guide energy packs from axis three to axis six in industrial robots. Murrplastik will showcase its robotic dress pack lineup at ATX West 2018, booth # 4355 at the Anaheim Convention Center from February 6-8.
R-TecLiner's unique spring return mechanism effectively guides the energy package with minimal wear in the smallest possible space. The completely enclosed system comes in extremely strong, aluminum housing to protect against hazards and dust ingress. An anodized aluminum slider requires little maintenance and, combined with the spring return system's reduced wear and tear, helps ensure a long service life.
The dress packs fit Murrplastik's 56/70-size EWX conduits and carry a stroke length of 350 mm to 550 mm. Their compact size allows easy insertion into a small housing, and they can stack horizontally or vertically and even mount directly in specific robots without adding a base plate. Replacement is quick and easy, and the unit can operate over a wide temperature range of -40°C to 140°C.
For more information visit http://www.murrplastik.com