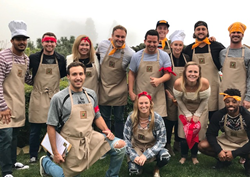 SAN DIEGO (PRWEB) January 30, 2018
Lajollacooks4u kicked off its 10-year anniversary by welcoming a local, for-profit organization into its kitchen this month.
Apex Leadership Company, an organization that partners with schools to raise funds for equipment and other campus needs, brought sixteen of its team members to partake in a corporate cooking challenge.
The evening began with Lajollacooks4u's signature olive oil competition and was then followed by team members splitting into groups and selecting a dish to prepare. A head chef was appointed to manage each team, and team members chose to either help prepare the recipe or to help produce a 90-second infomercial showcasing their assigned dish. Many laughs were had in the process, and all of Apex's team members enjoyed the delicious food and great company – all while taking in the view overlooking Mt. Soledad in La Jolla.
"What a way to kick off 2018!" said founder Chef Jodi Abel. "This was such a dynamic, fun-loving and inspiring group. They jammed out on the piano while cooking, sang karaoke while eating, and their infomercial creativity blew me away! It's no wonder why their work has made such an impact on our community – this was a very special group of people."
Known for its out-of-the-box fundraising model, Apex Leadership Company combines fitness, fundraising and leadership into a powerful united event and incorporates a two-week character-building and leadership program that culminates with a meaningful student fun run to raise donations for schools. Formerly Apex Fun Run, Apex Leadership Company's new name reflects all the programs available to help serve the community.
Programs now include: Apex Fun Run, Apex Serve, Apex Remix, Anython and Color Battle -- all run by the same team, with the same unwavering dedication to unparalleled service.
For more information, please visit http://www.apexleadershipco.com.
About Lajollacooks4u:
Lajollacooks4u, founded in 2008, provides a unique culinary experience for corporate cooking challenges and special events in a magnificent setting overlooking the Pacific Ocean. Based in La Jolla, California, Lajollacooks4u has enjoyed record growth since its inception and has been ranked as the top in its category by the popular travel review site, Trip Advisor. Chef Jodi Abel also recently released her cookbook, Lajollacooks4u: California Cuisine, an accumulation of the favorite recipes her guests have been raving about. For more information about her cooking events, as well as her cookbook, please contact jodi(at)lajollacooks4u(dot)com.