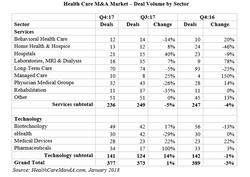 NORWALK, Conn. (PRWEB) January 26, 2018
Lisa E. Phillips, Editor
Phone: (203) 846-6800
Fax: (203) 846-8300
Healthcare merger and acquisition activity held steady in the fourth quarter of 2017. Compared with the third quarter, deal volume increased 1%, to 377 transactions. Deal volume was lower than the same quarter in 2016, down 3%. Combined spending reached $114.4 billion, up 166% compared with the $43.1 billion spent in the previous quarter, according to HealthCareMandA.com. Fourth quarter deal value was 197% higher than the $38.6 billion spent in Q4:16.
Deal volume for the full year 2017 reached 1,566 transactions, down 2% compared with 1,593 transactions in 2016. Dollar volume was more robust, up 23% compared with 2016, to $315.3 billion.
Healthcare services transactions made up 63% of the quarter's deal volume, and an unusually strong 87% of the quarter's dollar volume ($99.4 billion). The spending surge is the result of the $77 billion CVS Health/Aetna announced in early December, in the Managed Care sector. That deal alone accounted for 67% of the quarter's total spending.
Long-Term Care remained the most active of all the sectors, although quarterly deal volume continued to slip. The 70 deals announced in the recent fourth quarter are 5% lower than the previous quarter (74 transactions). Among the services sectors, Hospitals, Laboratories/MRI/Dialysis, Rehabilitation, Labs and Other Services were the only sectors to equal or increase deal volume levels above the previous quarter.
The technology sectors showed some improvement versus the year-ago quarter, except for Biotechnology, which dipped 13%. Compared with the previous quarter, all showed higher deal volume, with the exception of eHealth (-29%).
"M&A in the fourth quarter of 2017 saw a new focus on consumerism in healthcare," said Lisa E. Phillips, editor of HealthCareMandA.com. "The CVS Health/Aetna deal is supposed to create community health hubs. We expect to see a few more atypical match-ups like that in 2018, where acquirers look for targets in a different sector."
For more information on the HealthCareMandA.com investment research source, or for a membership to any of Irving Levin Associates' services, please call 800-248-1668. Irving Levin Associates, Inc., established in 1948, is headquartered in Norwalk, Connecticut and is online at http://www.levinassociates.com. This privately held corporation publishes annual and quarterly research reports, monthly and weekly newsletters, and maintains merger and acquisition databases on the health care and senior housing markets. If you would like to receive future releases, please email pressreleases@levinassociates.com.
--- end ---