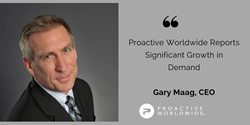 For PWW, this scenario helps to drive the increase in our customers' demand for competitive and market intelligence services that will maintain or expand their market positions.
SCHAMBURG, Ill. (PRWEB) January 29, 2018
Global Competitive Intelligence consulting firm Proactive Worldwide (PWW) exceeded its year-end earned revenue projections in 2017, notably beating its sales goal by twelve percentage points.
This growth in sales boosted the company's overall earned revenue to six percent over its target for 2017. PWW also expects a continuous revenue stream from projects carrying over to 2018 and beyond.
PWW CEO Gary Maag stated that robust sales for competitive intelligence and market research in the healthcare sector have generated the most income for the firm, with earned revenue from healthcare-related services smashing targeted projections at 17 percent.
Noting that PWW surpassed its healthcare sales goal by 28 percent in 2017, Maag said, "The healthcare market continues to outperform other sectors, but shifting government regulations and advancements in the healthcare field, among other factors, also make it more volatile. For PWW, this scenario helps to drive the increase in our customers' demand for competitive and market intelligence services that will maintain or expand their market positions."
About Proactive Worldwide, Inc.
Proactive Worldwide, Inc. is a global research and strategic intelligence consulting firm that provides evidence-based, constructive information within the competitive intelligence, market intelligence, and customer insights domains. Anchored by primary source research for over 22 years, Proactive's multilingual professionals assist our clients with offerings that include but are not limited to competitive research services, competitor assessments, market entry and defense strategies, war gaming simulations and scenario planning events, and customer experience and user experience studies. To learn more, visit http://www.proactiveworldwide.com