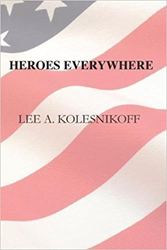 A masterful narrative about the trials and deep beauty of family and life
STATEN ISLAND, N.Y. (PRWEB) January 28, 2018
Boulevard Books is proud to publish the newest volume by author, Lee Kolesnikoff. Heroes Everywhere is a timeless novel about life past while still being filled with vibrant memories. The author describes it as follows,
"Born in America; what a blessing for any child to be born in this great nation. What could be better? Still, for the child of an immigrant, many challenges exist. It has to weave its parents' view of the world and their ethnic customs into the fabric of the new nation's ideology. It must confront and make peace with other groups of youngsters from different ethnicities who are seeking the same relief. All this requires guidance. HEROES EVERYWHERE is about finding such guidance, even when it is not being sought."
Boulevard Books was founded in 2010 by author and educator Avi Gvili in order to empower authors everywhere with control of their work. It is the only publishing company that offers 100% royalties.