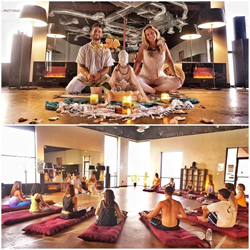 This process provides a safe and loving space in which to shine a light on deep-seated emotional issues, core wounds and limiting beliefs,
Sedona, AZ (PRWEB) January 29, 2018
For the third year, Shamanic healer and soul guide Anahata Ananda will present her signature Shamangelic Breathwork Ceremony at Black Swan Yoga-South in Austin, Texas on February 23-24, 2018. The evening ceremonies will allow area residents to experience one of the most powerful and sacred Shamanic techniques for deep emotional clearing and spiritual activation.
Shamangelic Breathwork incorporates guided visualization, deep breathing techniques, vibrational sound, soulful music, energy healing, Shamanic tools, crystal therapy and more to facilitate a personal sacred journey into the depths of one's soul and beyond.
"This transformational healing modality is designed to release the heaviness that comes with the stresses of modern life and allows one to re-center and reconnect to their inner guidance with peace and clarity," said Anahata, founder of Sedona-based Shamangelic Healing.
Shamangelic Breathwork is a signature modality that Anahata has developed through her years of working as a Shamanic practitioner and energy healer. Deep Shamanic breathing has been found to facilitate profound emotional releases, open new channels of awareness and clear toxicity in the body.
"This process provides a safe and loving space in which to shine a light on deep-seated emotional issues, core wounds and limiting beliefs," said Anahata. "It offers profound and lasting shifts enabling one's radiance to shine through, positively affecting all areas of their life."
The art of breathing is foundational to all states of consciousness. Shamanic ceremony is meant to take one to their edge, and the edge is where the growth occurs. The new information for self-awareness that one gets from the shamanic ceremony is enormously helpful for breaking old patterns and reshaping relationships into healthier ways of being.
Black Swan Yoga is a donation-based, walls free yoga community whose instructors are trained to freely express their own interpretation of the yoga practice. Shamangelic Breathwork adds a powerful and effective dimension to this interpretation. For more details about the evening ceremonies, including how to register, visit Black Swan Yoga.
Anahata Ananda has trained extensively with gifted shamans, energy healers and spiritual teachers from around the world to artfully integrate the fields of spirituality, energy healing, self-empowerment and shamanic teachings. Her client-base spans the globe with individuals from all walks of life who are seeking to heal and awaken to their fullest potential.
For those unable to attend the Austin events, Anahata offers a variety of Shamangelic Healing services year-round in Sedona, Arizona including private sessions, sacred land journeys and training courses that incorporate Shamanic teachings and other energy healing modalities. She also offers Tailored Retreats for individuals, couples and small groups that can include a combination of offerings based on various needs and areas of interest.
Shamangelic Healing is a premier center for Shamanic healing and spiritual awakening in Sedona. It is nestled beneath Thunder Mountain with breathtaking views and within walking distance to a medicine wheel and healing vortexes, making it the perfect setting for healing and expansion.
For detailed descriptions and a calendar of all training courses and spiritual awakening services offered by Anahata visit http://www.shamangelichealing.com/