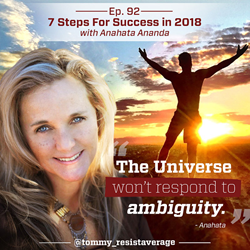 If you leave out the details and the feelings, nature will fill the vacuum—and then the details may not be your.
SEDONA, Ariz. (PRWEB) January 31, 2018
Success in life, however one defines it, can often seem elusive without a clear destination and roadmap to get there. Shamanic Healer and soul guided, Anahata Ananda recently joined Tommy Baker, host of the Resist Average Academy, a top-rated iTunes podcast, for a lively discussion highlighting seven steps for achieving success in 2018.
Benjamin Franklin once said, "If you fail to plan, you are planning to fail." Anahata, founder of Sedona-based Shamangelic Healing agrees. "The universe is not going to respond to ambiguity," she said. "The first step to success is having a super clear vision, your 'yes'—whether that relates to your health, your work, your relationships, your living environment, your abundance, your spirituality."
Anahata further explains that just having a vision is not enough. Often people fall short of their dreams because they don't take the time to infuse their visions and intentions with emotion and energy. "If you leave out the details and feelings, nature will fill the vacuum—and then the details may not be yours," she said.
During the hour-long podcast, Anahata and Tommy engage in a thought-provoking and enthusiastic discussion about mastering the mind, radical honesty, reflection and planning, and putting reinforcements in place to achieve one's dreams. Listen to the podcast to learn the details of all seven strategies and action steps.
Anahata Ananda has trained extensively with gifted shamans, energy healers and spiritual teachers from around the world to artfully integrate the fields of spirituality, energy healing, self-empowerment and shamanic teachings. Her client-base spans the globe with individuals from all walks of life who are seeking to heal and awaken to their fullest potential.
Tommy Baker is a writer, speaker, author and coach, and host of the Resist Average Academy, a top rated self-help podcast on iTunes designed to provide the knowledge, inspiration and action steps for living a life by design. The program uses inspiring stories of challenge, success, growth, and learning from top visionaries, entrepreneurs and thought leaders to inspire others to live a life of action.
Anahata offers a variety of Shamangelic Healing services year-round in Sedona, Arizona including private sessions, sacred land journeys and training courses that incorporate Shamanic teachings and other energy healing modalities. She also offers Tailored Retreats for individuals, couples and small groups that can include a combination of offerings based on various needs and areas of interest.
Shamangelic Healing is a premier center for Shamanic healing and spiritual awakening in Sedona. It is nestled beneath Thunder Mountain with breathtaking views and within walking distance to a medicine wheel and healing vortexes, making it the perfect setting for healing and expansion.
For detailed descriptions and a calendar of all training courses and spiritual awakening services offered by Anahata visit http://www.shamangelichealing.com/