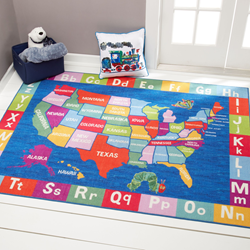 We are very excited by this addition to our line of products", says Yuval Evar, EVP for Home Dynamix. "Eric Carle's timeless work has touched the lives of so many young children, including my own. I am proud to help create additional platforms for his great art to reach more children worldwide."
NEW YORK (PRWEB) January 30, 2018
Home Dynamix is happy to announce a new collaboration with The World of Eric Carle, the publishing franchise based on the works by Eric Carle; acclaimed author and illustrator of treasured picture books. The brand's centerpiece, "The Very Hungry Caterpillar", has won the hearts of millions of children around the world for three generations, selling over 45 million copies in over 60 languages.
Under this collaboration, Carle's iconic collage art is brought to life with fun decorative pillows, blankets and area rugs. The collection incorporates bright and cheerful artworks from "Brown Bear, Brown Bear, What Do You See?," "The Very Hungry Caterpillar," and more of his remarkable books. True to his love of nature and understanding of children's feelings and curiosity, the collection features playful and colorful elements from the world around them.
"We are very excited by this addition to our line of products", says Yuval Evar, EVP for Home Dynamix. "Eric Carle's timeless work has touched the lives of so many young children, including my own. I am proud to help create additional platforms for his great art to reach more children worldwide."
The Eric Carle by Home Dynamix collection offers decorative pillows, blankets and nylon area rugs with a non-skid latex backing, ensuring children can play safely. The entire collection is machine washable, ideal for children's rooms. The area rugs will be offered in three sizes: 30"X50", 5'X7', 7'X10' and will retail from 19.99$-99.99$.
The new collection will be available online and offline in various retail stores nationwide.
About Home Dynamix
Founded in New Jersey in 1986 as a rug importer business, Home Dynamix is a family-owned and operated business that has grown to become a leader in manufacturing and distribution of beautifully designed and quality home goods including rugs, mats, bedding, bath and pet products. With more than three decades in the home textile business Home Dynamix has distinguished itself as a trendsetter that always keeps the customer in mind.
Home Dynamix is a worldwide company with more than 300 employees in offices in New Jersey, New York, California, China and India. Home Dynamix travels the world to find the freshest styles, most luxurious fabrics, and most advanced technology to create high quality, high fashion home décor products. Home Dynamix products can be purchased through major retail outlets such as Home Depot, Sam's Club, Bed Bath & Beyond, Home Goods, Overstock and Wayfair. For more information, please visit http://www.homedynamix.com.
About The World of Eric Carle™
The World of Eric Carle™ is a design-driven licensing and merchandising program based on the beloved picture books by Eric Carle. A prolific author and artist, Eric Carle has written and illustrated more than seventy books which have sold over 144 million copies worldwide. Like his books, The World of Eric Carle brand draws upon Eric Carle's approach to creativity, discovery, play and development. Licensing and merchandising programs are ongoing in the US, Japan, UK, Australia and Europe. For more information, please visit: http://www.Facebook.com/theworldofEricCarle