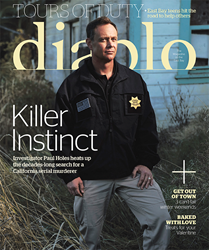 "I have been fascinated by this case for years, so it was exciting to report this story for Diablo magazine." Crooks says.
WALNUT CREEK, Calif. (PRWEB) January 31, 2018
In Diablo magazine's February issue, on newsstands now, Senior Editor Peter Crooks visits the story of Paul Holes, Contra Costa County investigator. Holes, on the edge of retirement, has spent decades investigating the Golden State Killer.
The Golden State Killer, one of the most elusive serial killers in U.S. history, terrorized the Sacramento area and also Concord, Danville, San Ramon, and Walnut Creek in the East Bay in the late 1970s. Between late-1978 and mid-1979, nearly 40 home invasions and attacks occurred in Sacramento, Stockton, Modesto, and Davis. Nine violent crimes in the East Bay included terror, torture, and rape, and were attributed to the culprit, known at the time as the East Area Rapist.
From 1979 to 1986, at least ten murders have been attributed to the Golden State Killer, who, to this day, remains unidentified.
In the cover story of Diablo magazine's February issue, Crooks unfolds the story of Holes' career and his investigation of the Golden State Killer case, including the more recent advancements of DNA technology, which connected the Northern California assaults to the murders in Southern California.
"The one thing he would not have known at the time of his crimes was that DNA evidence could eventually identify him." Holes says in the article. "And we have DNA evidence…This is a solvable case."
The statute of limitations for murder will not expire, and Holes, along with the countless other investigators and the victims' families, would see the Golden State Killer prosecuted if he were to be identified.
"I have been fascinated by this case for years, so it was exciting to report this story for Diablo magazine." Crooks says. "While the details of the crimes committed by the Golden State Killer, I hope readers will also be inspired by the tenacity and dedication to the case that Contra Costa County District Attorney investigator Paul Holes has demonstrated for more than two decades. The Golden State Killer had to have known people in Northern California, and I hope that this article and coverage of the case will lead readers who knew him to come forward."
Read the full story in Diablo magazine's February issue, on newsstands now, and online at diablomag.com.
ABOUT PETER CROOKS
Peter Crooks, Senior Editor at Diablo Publications is also the author of the The Set Up: A True Story of Dirty Cops, Soccer Moms and Reality TV. Contact Diablo Publications at (925) 943-1111 for more information on the February issue cover story.
ABOUT DIABLO MAGAZINE
Covering topics ranging from travel, culture, and personalities to entertainment, recreation, and food, Diablo magazine is written specifically for the San Francisco East Bay market—from Central Contra Costa, into the Oakland and Berkeley hills, and throughout the Tri-Valley. With locally driven editorial content, beautiful photography, and resource listings, Diablo is a unique celebration of the San Francisco East Bay. Published since 1979, Diablo has been recognized for its editorial and design with numerous awards, including previous Maggie Awards for Best Overall Publication and Best Regional and State Magazine in the consumer category.
ABOUT DIABLO PUBLICATIONS
For over 38 years, Diablo Publications, an employee-owned company, has been creating award-winning publications, including Diablo magazine, Napa Sonoma magazine, Diablo Weddings, Diablo Arts, Concierge Wine Country, and the Tri-Valley California Visitors Guide. Diablo Publications' custom content division, Diablo Custom Publishing (DCP), provides complete print and online marketing communications and customer publishing services for corporate clients nationwide. For more information visit diablomag.com to view our retail publications and dcpubs.com to learn more about custom publishing.